Migrant hostage standoff, '20,000 expected in summer'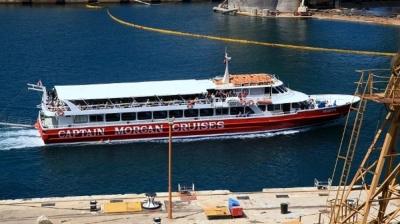 One of the four 'offshore detention centers' comes into port PHOTO CREDIT: EuropaToday
VALLETTA – A private vessels stranded outside Maltese territorial waters devolved into chaos as migrants armed with knives from the kitchens threatened to detonate a gas cylinder and kidnap crew members, the Maltese Prime Minister Robert Abela revealed on live broadcast. The authorities received a request for help on Saturday, and were given "half an hour to act or they would kidnap the crew," said PM Abela. In a statement, the Maltese government said that the situtaion had been resolved and they had authorized the disembarkation of 425 migrants from all four vessels, while pointing to a lack of action and solidarity from EU member states.
  Data from the Interior Ministry shows that despite the additional obstacles in 2020, 5,461 people have already crossed compared to the 1,878 in 2019. Experts therefore expect there to be at least 20,000 people, mostly from Libya and Tunisia, who will make the Mediterranean crossing during the summer, as the pandemic wanes and human traffickers resume, reports Corriere Della Sera. 
  The four private vessels that had been stranded outside Maltese territorial waters were termed 'offshore detention centres' by SOS Mediterranean. The migrants had been detained on board tourist boats for almost 40 days, reported La Stampa.
  The escalation came after hours of negotiations, as the Maltese government attempted to relocate the migrants and speed up the asylum application process. Migrants who do not identify themselves are to be repatriated, reports Firenze Post. Malta have been criticised by the EU and NGOs for abandoning migrants to the sea and sending them back to Libya.
  It has long been reported that Maltese authorities collaborate with Libyan authorities when they turn back migrants, but a document published by Avvenire dated May 28 2020, suggests that Malta and Libyan will increase their joint efforts.
  Article One of the document, stated that "there shall be the creation of two co-ordination centres, one in Valletta and another in Tripoli," that will work together from July 1, 2020.
  The veracity of the document has not been confirmed, but expert commentators suggest that it provides further evidence to the case that collaboration has been occurring, which conflicts with European and International law, reports Il Post.
  Given the end of lockdown and the increase in human trafficking during the summer months, SOS Mediterranean are preparing to return to the sea with Ocean Viking, and Sea Watch 3 left from the port of Messina on Saturday, where it had been moored for three months by government decree, reports Il Messaggero.
  A letter from the Italian Interior Ministry, signed by Italy, Spain, Greece, Malta, and Cyprus has pointed towards mandatory quotas, as Brussels prepares a proposal for wide-reaching reform for the distribution of asylum seekers amongst EU member states, reports La Repubblica.
  The Vice-President of the EU Commission, Margaritis Schinas, aims to propose the new migration policy by the end of June.
jmj