Whatsapp messages shed light on fishing vessel mystery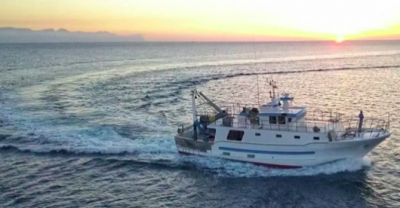 PALERMO – An investigation into the disappearance of the New Isis' fishing vessel on the night of May 11, thought to have vanished somewhere between San Vito Lo Capo and Ustica, has been piecing together a credible version of what happened in an attempt to locate the Captaion Vito Lo Iacono, 27, who has not yet been found. Of the other two men manning the vessel, the father of Vito, Matteo Lo Iacono, 53, was found dead on May 16, his Vito's cousin, Giuseppe Lo Iacono, 34, was found dead on May 14, report La Stampa.
  Information gleaned from whatsapp messages sent to two of the men's phones suggests a window of time when the vessel was lost. At 10:33 p.m. Giuseppe's wife sent him a whatsapp message, that was successfully received by the phone, and at 11:53 p.m. a friend sent a message on whatsapp to Vito, but with just one tick, the phone never received the message, suggesting that at some point between these times the boat was lost, according to judicial sources
  The New Isis was meant to have been out May 11 and May 12, to return on May 13 and after a couple of hours of sailing on the first day had cast the longline to pull up swordfish and tuna. 
  One hypothesis is that the fishermen took a risk with stormy conditions. However, before a storm could have set in, a fishermen found a buoy on the morning of May 11, a strange twist in the story, as a piece of the vessel was found before the bad weather could have set in, reports La Repubblica.
  A La Repubblica report into the disappearance, using evidence as presented by the family lawyer, Aldo Ruffino, and the coast guard has pointed to either an abnormally large wave or some sort of collision. Consultations with expert fishermen suggest that a large wave could not plausibly have happened.
  This leaves a collision. In the area where the fishing boat was, at around 10:50 p.m., an oil tanker passed. The owner of the tanker was contacted by investigators, but although the presence of the boat in the area was confirmed, the crew did not hear or see anything, report La Repubblica.
  One further detail revealed by the ship's blue box satellite system has confused the case. At around 11:00 p.m., but only at this time, the ship speed suddenly dropped from 12.3 to 11.9 knots.
jmj