Serie A Presidential election had 'multiple irregularities'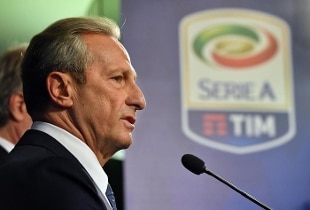 Gaetano Micciché. PHOTO CREDIT: TELLERREPORT
MILAN – The president of the Italian National Olympic Committee (CONI), Giovanni Malagò, is under investigation after prosecutors alleged that the minutes taken at an assembly he chaired were falsified and led to the election of Gaetano Micciché as president of Serie A in 2018, according to judicial sources. Micciché already resigned from his position as Serie A president in November 2019 after complaints about his appointment, but, on Friday, prosecutors Paolo Filippini and Giovanni Polizzi asked the notary Guiseppe Calafiori to reveal the secret ballot votes cast in 2018, reports Corriere Della Sera.
  The March 2018 assembly had modified a statute providing for unanimity during elections, which made it possible to circumvent potential conflicts of interest, especially favouring candidates who hold positions in private institutions that already have relationships with Serie A teams and groups, as explained in Corriere Della Sera.
  Normally 14 votes would be enough to elect someone as the next president, but in this case unanimity was required, benefitting Micciché who was on the board of RCS Mediagroup and president of Banca IMI, reports Calico Finanzia.
  In audio released by Business Insider, Rome CEO Mauro Baldissoni can be heard at the assembly inviting everyone present at the vote to "renounce the secret ballot," but on casting the votes, Giovanni Malagò asks if anyone was against voting for Micciché, calling it "common sense," which ellicted cries of "Micciché!", after which that acclamation was considered proof enough of his victory, and the ballot wasn't opened, reports Il Fatto Quotidiano.
  Malagò said he was "calm" and claimed that everything had been done with "maximum transparency." At present there are no suspects, but the Guardia di Finanza has acquired the ballot box with the votes of the 20 companies present, according to La Repubblica.
jmj