Palermo showcases 'face of the postmodern society'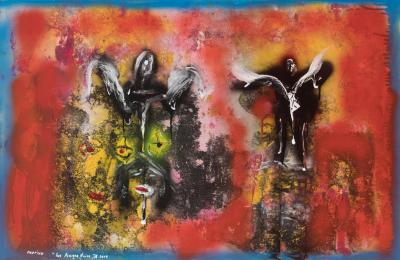 Julien Friedler. 'Les Anges noires.'
PALERMO – As the Sicilian capital starts to reopen its palaces, churches, and museums, the first exhibition with the Sant'Elia Foundation is to showcase the city's relationship with art and freedom with the Belgian artist, Julien Friedler, from June 7 to July 7, at Loggiato San Bartolomeo, according to a Sant'Elia press release. Attendance will be permitted only in small groups and with adequate safety equipment
  'Mapping', an exhibition curated by Gianluca Marziani and Dominique Stella, will contain 200 paintings by Julien Friedler that are expressionistic, cathartic, and were produced within the last two years, and open up to a viewer a vast fantasy world.
  Born in Brussels in 1950, Julien Friedler is a contemporary writer and a singular figure on the art scene, with training as a psychoanalyst and influenced by Jacques Lacan, having studied philosophy, having writing of several erudite works, and having a love for travel, "through Julien Friedler we know lush work in which paintings and sculptures are the spokesman for an overflowing imagination," said curator Gianluca Marziani. 
  Through drawings and paintings, 'Mapping' introduces an imaginary cartography that establishes the contours of a mental territory; "the colours, the spots, the signs, and the graffiti invade the surface of the canvas in a harmony that wants to be soothing, like a return to the essential, to the primordial and mysterious magma that expresses itself in unconscious visions," read the press statement.
jmj 
Julien Friedler. 'Sage contemplant l'extravagence.'