Flight pupil killed after plane crashes into Tiber river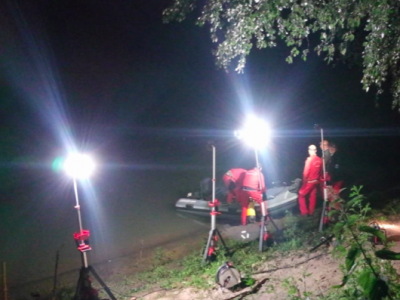 The search operation. PHOTO CREDIT: Vigili del Fuoco
ROME – A search with a helipcopter began on Monday after a two-person private plane crashed in the Tiber river, according to local police sources. On Tuesday, through the use of sonar, divers from the Vigili del Fuoco found the small plane, and although a search began for Daniele Papa, 23, a young pupil pilot, he was found dead shortly after. The aircraft was seen falling at 3:25 p.m. on Monday near via Flaminia, with it appearing that the pilot attempted to ditch the plane into the river, after having reporting engine failure to the nearby control tower moments after take-off from the Rome Urbe airport, reports La Repubblica.
  The instructor, Vito Gianandrea, 30, a Ryanair pilot, was found injured near the shore and was immediately transported to the Gemelli hospital, in a serious but not life-threatening condition, reports Il Fatto Quotidiano. 
  Mr. Gianandrea told his rescuers that engine problems had meant he had tried an extreme ditching manoeuvre. "I was able to release the seat belt and I left the cockpit, I fought to free my pupil too, I tried to the last but I couldn't," he said, as quoted in Il Messaggero.
  The plane was a small two-seater from the Urbeaero fleet, a private flight school giving lessons to future pilots, reports La Repubblica.
  The alarm was raised by the Italian air navigation service provider (ENAV), the company which monitors civil air traffic. The National Flight Safety Agency (ANSV) has opened its own safety investigation into the incident, and sent its own investigator to the accident site, reports La Repubblica.
jmj