Vatican finance holding network dismantled in Switzerland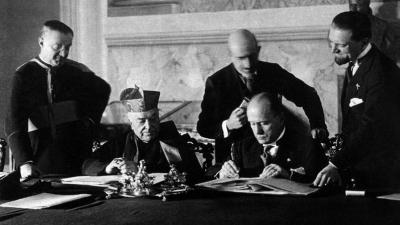 Benito Mussolini signs the Lateran Pact. PHOTO CREDIT: Mary Evans/Rue des Archives
VATICAN CITY – Swiss holding companies worth hundreds of millions of euros and created through the Lateran Pact, have been dismantled, closed, and their assets transferred into the oldest Vatican holdings in Switzerland, the 'Profima Société Immobilière et de Participations of Geneva', established in 1929 on behalf of Pope Pius XI, reports Corriere Della Sera.
  The nine companies from the real estate and financial sector that have been closed had survived seven Popes and are from Lausanne, Geneva, and Friborg, but have fallen foul to the coronavirus economic forecasts, with Vatican revenues expected to be much lower this year, with estimates suggesting that the The Holy See's deficit to skyrocket to 145 per cent in 2020, reported in Il Messaggero.
  The Administration of the Patrimony of the Apostolic See (APSA), the office that allocates finances to the Roman Curia to perform their functions and live, has had to adapt to cost-cutting, and that the nine companies became one was made possible due to Switzerland's liberal finance law, such as that a single auditor is needed instead of 10.
  The Lateran Treaty had a territorial basis that, rather than a usual concordat, established the sovereignty of the Holy See and the tiny state known now as The Vatican City. Originally signed by Benito Mussolini, the indemnities assigned there amounted to 750 million lire, and Switzerland was chosen with the view of "diversifying the portfolio," as described by Corriere Della Sera.
  APSA foreign network is now concentrated in three holding companies: Profima in Switzerland, British Grlux Investments for Great Britain, and Sopridex SA in France. 
  The Vatican prefect of the Secretariat for Economic Affairs, Father Guerrero Alves, said in light of the transfer that the Vatican had difficult years ahead. "We must be sober," he said, as quoted from Il Fatto Quotidiano.
jmj