Uffizi Gallery goes global with boom in online viewing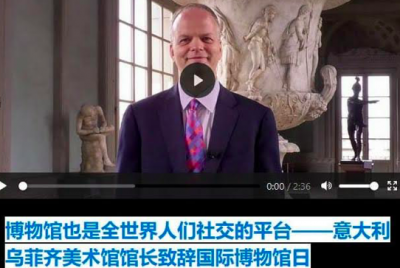 Director of the Uffizi Galleries, Eike Schmidt
FLORENCE – The 21 virtual exhibitions of the Uffizi have produced more than 3.8 million views since the Uffizi Gallery closed on March 8, amounting to 55,000 per day, with a 360-degree virtual tour of the museum's new Venetian halls proving to be particularly popular, according to a museum press release.
  The Uffizi has also benefitted from a strong showing on social-media. On Instagram, the Uffizi ranks among the most popular museums in the world and the first in Italy, with 488,000 followers, and its two-month old Facebook page already has 53,000 followers with 2.5 million video views.
  Two clips in Chinese made on 'International Museum Day' on May 18, showed the Director of the Uffizi Galleries, Eike Schmidt, speaking directly to users in Chinese, and these clips have obtained a total of 1.4 million views.
  Director Schmidt said that "now we are going to reopen our places of culture after 10 weeks of lockdown, the new digital contents that have been intensified on our platforms since March become even more precious when connected with the originals. From today it is possible that hundreds of works of art that can be admired in our galleries," as quoted in a press statement.
  Director Schmidt also referenced how the scientific databases and digital tools available are growing continuously, as proven by the sharing of 300 research items between the National Central Library of Florence and the Uffizi started in 2019.
jmj