China ambassador to Italy talks 'Kung-fu panda' diplomacy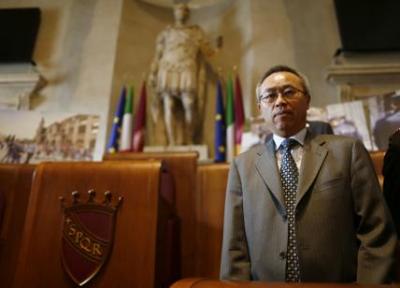 PHOTO CREDIT: AFFARITALIANI
ROME – The China ambassador to Italy, Li Junhua, has said that China respects the US-Italy alliance, and that it should not be an obstacle to the Italy China partnership, and further said that China were not warrior Wolves, but rather Kungfu pandas, in response to a question about aggressive Chinese diplomacy during an interview with Corriere della Sera. The idea of 'Kung Fu Panda diplomacy' was termed by Wang Peng in 2017 in China Daily, following the 19th National Congress of the CCP which restyled China as a benign influence on the international stage without hegemonic ambitions.
  Li Junhua has penned an open letter to Italy to congratulate the country on embarking upon of Phase 2, and applauded the Italian model for re-opening as a model that plans to save lives first and at the same time spread a widespread 'stay at home' message. "A model with clear guidance from the central government and with the possibility of taking local actions and encouraging public participation at the same time," he said, as quoted from Corriere Della Sera.
  "Faced with an unprecedented pandemic, the peoples of our two countries have shown a willingness to support each other and to face the difficulty together," continued the ambassador, after referencing the medical aid sent by China to Italy and the economic ties between the two nations, through the Belt and Road initiviative, the issuing of 'panda bonds', the export of Italian food products, and Chinese investment in the Italian 'motor valley'. "We must not allow the epidemic to break China or Italy."
  The Italian outlet Formiche reported on the interview by remembering the aggressive disinformation campaigns on social networks and recorded several diplomatic instances between Italy and China since the coronavirus epidemic began, such as when a fake news video was circulated by the spokesman for the Chinese Foreign Ministry, claiming that Italians had come out on their balconies to thank China and sing the Chinese anthem.
jmj