Phase 2 underway as Italian daily deaths drop below 100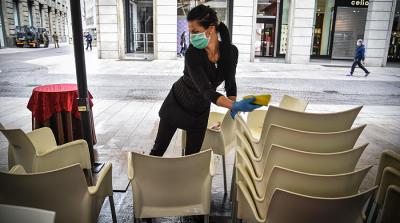 PHOTO CREDIT: Ministerio Della Salute
ROME – All across Italy more people were outside and there was more traffic on the roads as the new round of re-opening began after Italian Prime Minister Giuseppe Conte signed off on a new timetable for 'Phase 2' following talks with regional governments, and allowed shops, bars, beauty salons, and hairdressers to resume their services, although many were open only by appointment to customers, enforced health and safety rules, offered sanitizing gel, and had specific entrance and exit points, reports La Repubblica. A new self-declaration form has also been made available online for those who wish to travel between the Italian regions. 
There were 99 coronavirus deaths on Monday, which amounts to the lowest increase over 24 hours since the Italian lockdown started. The dead now total 32,007, according to the Civil Protection Agency. The total infected across Italy since the start of the epidemic is 225,886, although the regions of Umbria, Calabria, Basilicata, and Sardinia, all have zero infections.
  In Sardinia on Monday there was access to all the beaches, after a new ordinance was signed by the President of the Region, Christian Solinas. The ordinance also means people are obligated to wear a mask in all rooms open to the public as well as in outdoor places where it is not possible to maintain social-distancing norms.
   Meanwhile, in Milan, the worst affected city in Italy, various stores including major fashion brands reopened their doors, and customers were allowed to enter as long as their temperature was measured and they wore gloves and a mask, reports Il Fatto Quotidiano.
  Nevertheless, officials remain worried about the week ahead. The Minister for Regional Affairs, Francesco Boccia, said on La7 that: "I am concerned as anyone should rightly be. This and next week will be crucial to understand if and how we will be able to live with the COVID-19".
jmj