Libyan rebels claim attack with explosions near Italian base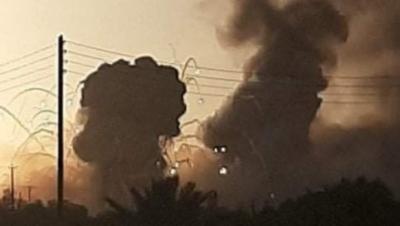 PHOTO CREDIT: Rassegna Stampa
 TRIPOLI – Smoke billowed and fire raged late on Wednesday evening, after blasts at the Air Force Academy airport in the city of Misurata, Libya, located significantly close to the compound of the Italian military hospital, report Il Messaggero. Local media have been reporting conflicting narratives, with those close to General Khalifa Haftar speaking of a raid on an ammunition and weapons depot, while state media report that the blasts were a possible arson attack.
  La Repubblica described the incident as resulting in a "colossal cloud of smoke, more than five kilometers large," supported by video footage released by Libya Review. 
  If the explosion was caused by a raid from the Libyan General Khalifa Haftar's rebel army, bombs could have been dropped from planes and drones, which could have trigged a chain reaction of explosions and fires, report Corriere Della Sera.
  The blast site was close to but did not damage the nearby Italian military compound that houses hundreds of Italian soldiers, report La Repubblica.
  Clashes in the region have increased in intensity ever since, on the evening of April 27, General Haftar declared himself head of state and claimed that he had the people's mandate, while broadcasting on TV.
  Italy's ambassador to Libya, Giuseppe Buccino, held talks in Tripoli on Wednesday on the current state of the war-torn country's security, according to adnkronos.
jmj