Al-Hawl and the forgotten children of Islamic State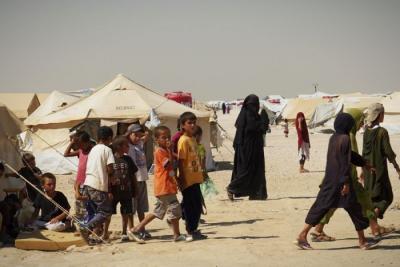 PHOTO CREDIT: Four corners/David Maguire
ROME – Although the so-called Islamic State (ISIS) has been all but destroyed, there still exists a significant number of active ISIS clusters and tens of thousands of potentially radicalised youths in al-Hawl, a camp on the Syria-Iraq border, and with COVID-19 preoccupying decision makers around the world, a second wave of ISIS threatens, and this was up for reappraisal at the Euro-Gulf Information Centre's (EGIC) online video conference on Tuesday.
  Moderator Ms. Sofia Barbarani, a journalist with years of reporting on the ground in Iraq and Syria, was joined in discussion by two experts: Michael Krona and Seth Frantzman. Mr. Krona is a Senior Researcher at Malmö University, Sweden, and is the author of: 'The Media World of ISIS'. Mr. Frantzman is the Executive Director of the Middle East Center for Reporting and Analysis, a writer for The Jerusalem Post, and the author of a recent book: 'After ISIS: America, Iran and the Struggle for the Middle East'.
  In March 2020, the 'Combined Joint Task Force Operation' announced it was making adjustments to reflect its successes in the fight against ISIS, and to protect itself from the coronavirus pandemic. The ISIS topic is a timely one, therefore, because Iraqi security forces have essentially been left to fend for themselves, and a vacuum once again opens up in the Middle East.
  Mr. Frantzman reminded the online EGIC audience that, even before the pandemic erupted, the last six months have seen protests in the Middle East, collapsing oil prices, roaming pro-Iranian militias, three different politicians all vying to be Iraq's Prime Minister, and a crescendo of US-Iranian tensions that seems to have influenced the decision of five or six EU nations to withdraw their forces from the Middle East.
  Mr. Frantzman said that, given this chaos, he had expected more ISIS attacks than there have been.
  In April 2020, ISIS claimed 150 attacks, most on checkpoints, which although representing an increase from past months, pales in comparison to their heyday operations, where a terror army was able to hold cities, execute truck bombings, and conduct prison breaks. ISIS, with their leaders killed, their supporters scattered, and their funding dried-up, are no longer the force they once were.
  However, as Mr. Krona was pointed out, "after Bin Laden was killed in 2011, we took eyes off Al Qaeda, and from that ISIS emerged. We need to keep our eyes on the situation." Mr. Frantzman concurred. "I think there is a big question mark over what comes next," he said, with either a rise in attacks occurring over the next few months, like in 2014 which culminated in the fall of Mosul over 24 hours, or else the Iraqi security forces will manage to snuff them out, and ISIS will plateau just as Al Qaeda did in the 2000s.
One place that needs to be watched closely is al-Hawl.
  It is a refugee camp on the Syria-Iraq border, and it holds women and children. Many ISIS families ended up there, after ISIS made the seemingly conscious decision to surrender at Baghuz. At the beginning of 2019 it held only 11,000 people; by the end of 2019 there were 74,000.
  "The women," stressed Mr. Frantzman, "are not innocent in this. Women play a key role in recruitment of men. Eventually we will see prison breaks. Or those women will be allowed to go somewhere else." Syria is one of the worst placed countries to deal with them, and ISIS have been promoting donation campaigns, appealing to its supporters to help free women and children from it and other camps in northern Syria, arguing that the national government has failed to provide basic care. Once again, ISIS takes up the guise of a state.
  But it is the radicalisation of minors that raises the most concern. Young boys do not stay young boys forever. The number of jihadist cases rises in prisons, and in camps like al-Hawl there are thousands of children with access to phones and the internet. "Another generation of extremists," stated Mr. Frantzman, lamenting the fact that the coalition could jam the cell phone network, if only they were coordinated. 
  The internet access the families of ISIS have is crucially important. Mr. Krona has observed "an increase in the last four months in strategies to take opportunities of the pandemic." While official ISIS media outlets have been using the pandemic as a propaganda opportunity to push a narrative that the pandemic was a punishment of God on infidels, it is really the ISIS 'supporter networks' – highly decentralised and active online forums - that concern Mr. Krona.
  To continue the Islamist agenda, ISIS affiliates have been using platforms such as 'Telegram', their most reliably used platform; 'Hoop Messenger', which is currently in favour; 'Riot', also used by extremist right wing groups; and 'Rocket Chat', an old favourite of ISIS, as well as scores of other minor platforms. Mr Krona explained that the intelligence services of Europe have difficulties because of the decentralised multi-lingual nature of encrypted platforms like these.
  Even if the cell phones were jammed though, there remains the problem of what to do with those in al-Hawl? "You can't just make them stateless," asserted Mr. Frantzman. Yet with nobody willing to hand them over to Syria, they have been left in such a limbo, with the victors of war abandoning their responsibilities. Indeed, the way Mr. Frantzman described it, the post-war response from the global coalition has been as if no war was fought at all. 
   There was no stabilisation of Syria. Thousands of Yazidi women and children are still unaccounted for. There was no process of deradicalization for ISIS members. And, most importantly, as Mr. Frantzman said, "the wealthiest countries in the world can't find a way to prosecute them…"
  Why were war trials, like those of Nuremburg or after the Balkans, never held for ISIS members? Mr. Frantzman said it was because prosecuting safely under international law required repatriation, and with that came the risk that some would be released into the population if there wasn't enough evidence to convict. "I understand the concerns," said Mr. Frantzman, "but you need either international or local solutions."
  "I don't know what the magic solution is. But there is a danger they recreate a network in the prisons." Pretending this isn't the case, isn't an option. At the very least a mission should have been organised up to send in child protective services and isolate at-risk children. 
  This should be happening now, before the predicted economic devastation and geopolitical faultlines in the Middle East, as covered in past EGIC events, radicalise children beyond the point of no return.
  Mr. Frantzman interviewed ISIS fighters after the battles of 2017, and recounted how one 17 year old was determined to fight against the Iranians in the future. "Who is going to change his mind?" asked Mr. Frantzman. Maybe nobody, but somebody should at least try.
jmj