Phase 2 underway across Italy as daily deaths fall to 174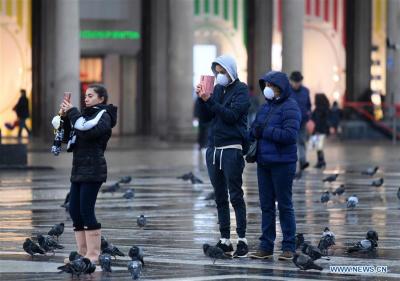 PHOTO CREDIT: XINHUANET.COM
ROME – Takeaway coffee bars resumed their service on Monday morning while maintaining social distancing measures, as the Italian capital embarked upon its partial re-opening with 'phase 2', with buses and metros also starting to operate again. Reports indicate that different levels of traffic have been overserved all across the peninsula, with Florence and Turin noticeably busier, with more cars on the road in Bari but with less of an uptake on public transport, with Venice half empty due to the lack of tourists, and with the roads of Milan remaining empty according to the local police report. 
  Over the weekend, data from the Civil Protection Agency showed that a downwards trend in intensive care admissions, with the total healed at 81,654. Over 24 hours, the daily death toll dropping to 174, the lowest since February, making for a total of 28,884.
  In Naples, video footage released by USB Labour Private Union showed a morning carriage with hundreds of passengers on board, far exceeding the maximum capacity of 100 in order to keep to social distancing. Adolfo Vallini, representative of the union, said that it was a "dramatic situation we never expected to see," as quoted in Il Fatto Quotidiano. 
  The political drama concerning Calabria, which by ordinance had opened all bars and restaurants on April 29, continued over the weekend, with the Italian Minister for Regional Affairs, Francesco Boccia, requesting that the Regional President, Jole Santelli, withdrew her measure. 
  Mr. Boccia said that although other regions had raised strong disputes, they had never violated the rules. "Calabria has deliberately gone against the clear indications of government and state decided for health reasons," he said, as quoted in Il Messaggero. 
  On Sunday, the Palazzo Chigi issued a new resolution amending a note from April 24 from the Interior Ministry, which was to grant access to the sea for those who live around Rome. The beaches are instead to remain off limits until May 17 at the earliest, reports La Repubblica.
jmj