Is Montenegro the new El Dorado for Italians?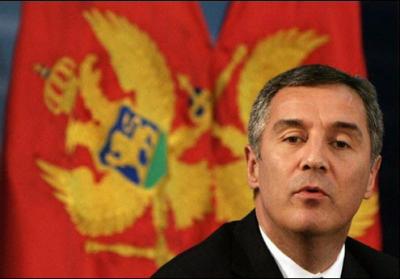 ROME – Hundreds of millions of euros invested in Montenegro by Italy are syphoned into accounts controlled by Montenegrin leader Milo Djukanovic and his family, Italian opposition leaders say.
Italy decided to increase massively its investment in the tiny Balkan nation, a former Italian colony, after Silvio Berlusconi, the Italian prime Minister, made an official visit to Podgorica, the capital, in 2009, receiving a warm welcome. Claudio Scajola, the then Italian development minister, a year ago signed contracts for investment in the energy sector and infrastructure of the former Yugoslav coastal republic together worth some 5 billion euros, officials said. The Italian utility company A2A then acquired a 43 percent share in the Montenegrin public energy company Elektroproverda, paying some 450 million euros for its share as part of the privatisation, La Repubblica newspaper reported.
At least 300 million euros of the 450 million were paid into the Prva Banka, controlled by Djukanovic's brother Aco, a bank that Milo also has shares in as well as his sister Ana, La Repubblica quoted Prva's director Predag Drecun as saying. Montenegrin opposition leaders denounced the arrangement as "hurried and not transparent," sponsored by Berlusconi to favour the Djukanovic clan.
Alessandro Maran, a deputy for Italy's opposition Democratic Party, is concerned the deal reflects "our illusion that we can do in the Balkans everything that one can't do in Italy, just by transferring it over the border."
Italy's Ambassador in Podgorica, Sergio Barbanti, strongly denies there is anything irregular about the relationship. "It is simply a constructive and interesting partnership for both countries. Montenegro is a country that wants to and can grow."
However Western observers say that Djukanovic's credentials as a business partner may leave much to be desired. In the past the former basketball star who forged the country's independence from Serbia and the former Yugoslavia was placed under investigation by Italian magistrates on suspicion of heading an organised crime ring smuggling thousands of tonnes of contraband cigarettes to Italy and other countried as well as trafficking in arms and drugs and giving sanctuary to gangsters from the Camorra, the vicious Naples version of the Mafia, who were on the run.
Public prosecutors in Bari and Naples had demanded Milo be arrested but the charges against him were dropped after Montenegro became independent on the ground that Djukanovic enjoyed immunity as the head of a foreign Government.
Nevertheless Djukanovic's tough secret police with links to organised crime is suspected of involvement in nine murders of witnesses in the cigarette smuggling racket including the editor-in-chief of the opposition newspaper Dan, who was shot and killed in 2004, judicial sources say.
Against this background, the Italian company Terna signed a contract to construct an underwater culvert which will link Pescara with the Montenegrin port resort of Tivat to bring energy from the Balkans to the Italian boot. Another project involves Italfer (Italian State Railways) building a railway from Bari to Belgrade (for which 1 million Euros already were allocated by Sig. Scajola).
Italy's Enel electricity company for its part will build in Montenegro a coal plant helped by Duferco which will install a waste incinerator.
Visits to Podgorica by key figures such as Valentino Valentini, Berlusconi's advisor for international affairs, and Maria Vittoria Brambilla, the frothy Tourism Minister, evidently played a key role in arranging such deals.
Djukanovic considers such Italian support crucial for Montenegro's applications to join the European Union and NATO.
Italian investigators are keen to find out more about business interests that Denis Verdini, the coordinator of the Government's dominant Freedom Party who is under enquiry for alleged corruption, encouraged an associate, Riccardo Fusi, a Florentine entrepreneur whose BPT company has been under investigation for bribery in connection with major state contracts, to develop in Montenegro, judicial sources say.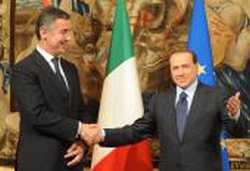 Djukanovic and Berlusconi