Calabria's Regional President unilaterally relaxes lockdown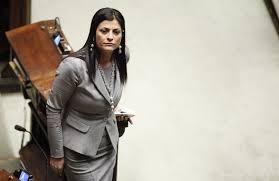 REGGIO CALABRIA – In the sunny southern region of Italy, the Regional President Jole Santelli has declared a partial re-opening without following any security protocols, with bars, patisseries, restaurants, pizzerias, and farmhouses to open from Thursday, with the caveat that they conduct their services outdoors, in what amounts to an acceleration of phase 2 as announced on Wednesday. Trading foodstuffs in open-air markets will also be allowed, as will retail trade in flowers, plants, seeds, and fertilizers.
  There are currently 104,657 coronavirus patients confirmed in Italy, after a decline of 548 over the last 24 hours, while the number of coronavirus victims in Italy rose to 27,682, an increase of 323 in a single day, according to data from the Civil Protection Agency. Calabria is at the bottom of the regional contagion statistics, with 1,102 positive cases, only an extra five in the last 24 hours, and with only 86 victims since the emergency began, report La Stampa.
  The decision was justified by Ms. Santelli on a Facebook post, which read that "because the Calabrian people have shown civic sense and respect for the rules… they will demonstrate common sense in managing the new opening spaces that the region has decided to allow, even beyond that dictated by the government."
  Mayors in Calabria have risen in revolt against the move, such as Polistena, San Pietro, Castrovillari, and Reggio Calabria whose representative, Giuseppe Falcomatà, wrote scathingly that "sometimes reality exceeds fantasy," as quoted in La Repubblica. 
  A note from the regional council has also criticised Ms. Santelli's decision, saying that they have been left  "speechless"and that the decision was "completely without logic, without reason… forgetting any sense of institutional responsibility," as quoted from Corriere Della Calabria.
  The decision has been taken in direct opposition to the requests of the Minister of Regional Affairs, Francesco Boccia, who warned the regional presidents that the autonomous breaking of legislative initiatives would not be tolerated, as reported in Il Fatto Quotidiano.
  Italian Undersecretary of the Ministry of Economic Development, Alessia Morani, addressed Santelli on Radio 24 on Thursday, stating that "viruses cannot be used as a political battleground," and that if they are "then it becomes difficult for everyone to manage the situation." 
  The Italian national government is struggling to keep the regions in line. Also on Wednesday, several other centre-right governors sent a letter to the President of the Republic, Sergio Mattarella, to the Prime Minister, Giuseppe Conte, and to the Minister for Regional Affairs, Francesco Boccia, asking for more autonomy, report Il Fatto Quotidiano.
jmj