Genoa bridge offers symbol of hope two years after tragedy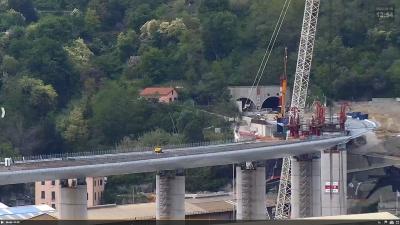 PHOTO CREDIT: globalconstructionreview
GENOA – A new 1067 meters bridge made of 17,500 tonnes of steel has been completed in Genoa under two years after the collapse of the Morandi bridge which left 43 people dead, and its opening was greeted by the Italian Prime Minister Giuseppe Conte, who spoke at the televised reopening on Monday. "We solemnly said it a few hours after the tragedy: I ​​was here and we immediately said that Genoa would not be left alone. We do our utmost to ensure that tragedies like this never happen again," the premier said.
  The 1067 meters of steel are made up of 19 sections 40 meters high, and are supported by 18 pylons. The last operation of 44 meters of the steel part of the bridge was greeted by sirens in the shipyard, report Il Fatto Quotidiano.
  The bridge was designed by architect Renzo Piano, and is at the same height and place as the Morandi, officially known as the Polcevera, which collapsed on Aug. 14 2018. Despite the coronavirus, the construction did not stop, reports La Repubblica.
  "I believe that seeing this work almost done… is an extraordinary sign that even in this difficult time we can continue to change the world every day," said the Italian Minister of Transport, Paola De Micheli.
  Present at the launch was the governor of the Liguria Region, Giovanni Toti, who highlighted that the bridge was a "symbol of an Italy that is making a start again. I believe this is more than a bridge. It is the demonstration that together we can do many things," as quoted in Il Sole 24 Ore.
jmj