Pope prays for families, 'phase 2' poses childcare dilemma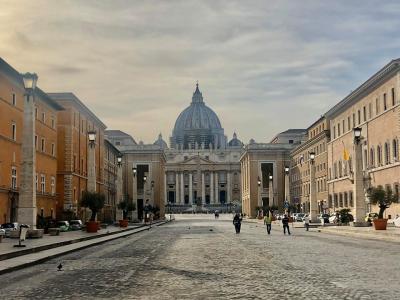 PHOTO CREDIT: Stephanie Lorenzo
VATICAN CITY – Pope Francis called on people to pray for families battling with debt and loansharks during his Thursday mass at Santa Marta. "Let us pray for these families, for those many children of these families, for the dignity of these families. And we also pray for usurers: that the Lord touches their hearts and are converted," as quoted in Il Fatto Quotidiano.
  For the third consecutive day on Wednesday, the number of people positive for coronavirus fell, along with the number of victims. The number of total cases in Italy reached 187,327, with the number of deaths at 25,085. As the contagion rate falls, the Italian government has been planning to move into phase 2, which aims to relieve some of the pressure that has been placed upon families. The dates are not yet certain, although one hypothesis has shops re-opening from May 11, and restaurants from May 18. 
  The plan as described by the Palazzo Chigi will be enacted with the "utmost caution, in the awareness that the epidemiological curve must always be kept under control and not be unprepared in case of a possible ascent." 
  One decision that has been made is that manufacturing and construction will restart on May 4, with two million seven hundred thousand workers returning to their workplace, according to Il Sole 24 Ore.
  However, there are many outstanding questions for families, with one being how to manage the return to work alongside the care of children, after the Italian Education Minister, Lucia Azzolina, said that schools would not restart until September.
  The re-opening of schools could be problematic for the contagion rate, with a new study suggesting that positive children that are asymptotic could be as high as one in two, as reported in Il Messaggero.
  The mayor of the town of Empoli, Brenda Barnini, has sent a letter addressed to Mrs. Azzolina and Italian Prime Minister, Giuseppe Conte, offering up the town as a candidate to experiment with the re-opening of schools, reports Il Fatto Quotidiano. 
jmj