Coronavirus cases drop for first time, Conte talks re-opening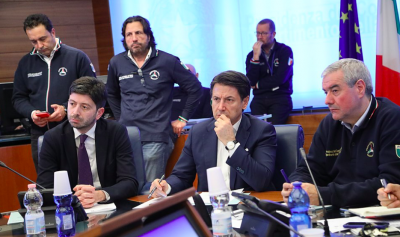 Italian Prime Minister Giuseppe Conte
ROME – For the first time since the coronavirus emergency began in Italy, the number of those currently infected with COVID-19 fell over 24 hours, from 108,257 to 108,237, according to data from the Civil Protection Agency.
  Although the death toll continues to fluctuate, the drop of 20 marks an important milestone, with the number of people in intensive care also falling to 2,573, the lowest figure in a month, according to the head of the Civil Protection Agency, Angelo Borrelli.
  The Italian Prime Minister, Giuseppe Conte, has said that before the end of the week he hopes to communicate to the nation the details of a complicated plan for phase 2. "A reasonable prediction is that we will apply it from May 4," he said.
  As the lockdown continues and the infection rate falls, the many Italians have had their patience tested, with 17,500 people reported over the weekend for failing to heed government restrictions, according to numbers provided by the Italian Interior Ministry.
  PM Conte warned that it was too easy just to say, "let's open everything," and that such a decision would be irresponsible and would make the contagion curve rise, damaging the progress that had been made so far.
jmj