Investigations into ANAS delays after Aulla bridge collapse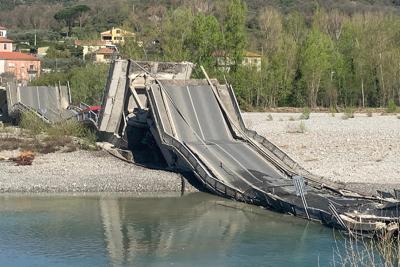 SANTO STEFANO MAGRA – A bridge collapsed in the municipality of Aulla on Wednesday at 10:30 am, with two vans on the bridge at the time, and an investigation has been opened into the lack of action taken by the Italian National Autonomous Roads Corporation (Anas) despite the multiple requests made to them for more detailed checks, report local prosecutors. Following the collapse, the road to get to the bridge was blocked on both sides by carabinieri, finance guard, dog rescue, red cross, and firefighters.
  Of the two workers travelling on the bridge, one managed to escape unscathed and was in shock, while the other had to be taken to hospital by helicopter with a vertebra fracture, reports La Nazione.
  From Nov. 2019, the bridge began to generate public controversy after a crack was noticed by motorists after a bout of bad weather, according to Il Fatto Quotidiano.
  Following the collapse, Italgas staff arrived on the scene to block a gas leak due to a broken pipeline, reports AdnKronos. 
  The collapse will leave some 16,000 people without a direct means of transport, with those wanting to travel into Aulla from Albiano or Ceparana having to take much longer routes, according to La Nazione.
jmj