Obituary: Marek Lehnert, Polish radio correspondent who chronicled Pope John Paul II
Marek Lehnert reporting in St. Peter's Square
 VATICAN CITY-- As the Rome correspondent for the Radio Free Europe Polish service during the pontificate of Saint Pope John Paul II, Marek Lehnert gripped the attention of millions of Poles listening to his brilliant dispatches during the Solidarnosc struggle against communism, but he never spared his audience from the shortcomings of the Roman Catholic Church.
 Lehnert began work as a radio reporter in the Eternal City in 1975 and from 1980 to 1984 worked also on the Polish edition of the semi-official newspaper of the Holy See, L'Osservatore Romano.
 He worked for Radio Free Europe as its man on the Tiber until its closure in 1994 and, following the end of communism in Poland in 1989, as the correspondent from 1994 of Polish national radio, reporting on Italy as well as the Vatican.
 In recording his death, Italian newspapers described Lehnert as a personal friend of John Paul II. 
 That was perhaps an exaggeration but Karol Wojtyla definitely knew who his young compatriot was, and understood how influential his RFE reports on his pontificate were in Poland.
 On one occasion when Lehnert accompanied John Paul on one of his many overseas trips, the pontiff broke with protocol unusually to give the reporter a lift in the papal helicopter from Ciampino airport to the helipad inside the Vatican so that Lehnert could easily walk to his apartment near the walls of the tiny city state. 
  If some colleagues saw this as a rare mark of favour by the Polish pope whose relations with the media were often stormy, it was one that he had not actively sought. 
  While some Vatican reporters took themselves too seriously and pontificated, Lehnert enchanted his friends with his mischievous, irreverent sense of humour. When Italians asked him how long he had lived in Rome he would invariably reply "Se avessi ucciso qualcuno sarei già libero" (if I had murdered someone I would already have been set free).
  Lehnert was one of a small, close knit group of Polish reporters who found themselves outside their homeland when martial law was imposed in Poland in 1981 and he helped to set up a branch of the Solidarnosc free trade union in Italy.
  Lehnert was born in Warsaw and grew up in a one-parent family in difficult circumstances but shone at school and took a degree in Polish studies and philology from the University of Warsaw. In 1970, at age 20, he began contributing to the prestigious Catholic weekly newspaper Tygodnik Powszechny in 1970 and he continued to do so until 2000.
  Together with Andrzej Drzycimski, the Polish government spokesman, he wrote Eight Days in Poland (Editions Spotkania, 1984) -- a book about the second pilgrimage of John Paul to Poland, which he made June 16-23, 1983.
  In addition to his journalism, Marek also was an accomplished poet. He published a number of collections of his verse in both Polish and Italian that were well received by critics.
By order of Polish President Aleksander Kwasniewski on Sept. 8, 2003, he was awarded the Silver Cross of Merit for his services to radio.
  Nevertheless in 2017 Polish Radio forced him to retire, to the chagrin of his audience, evidently because he was not a supporter of the current nationalist Polish Government. It was a blow from which he never fully recovered. His erstwhile employers recorded his death only laconically.
  Lehnert greatly admired John Paul but acknowledged that the entourage of the Polish pope had been aware of the paedophilia scandal in the Church, both in Poland and elsewhere. 
  He saw Pope Francis as in many ways pursuing the teachings of John Paul, for instance in his emphasis on the need for the respect of the rights of workers. But he felt that the Roman Curia, the central government of the Church, was dragging its feet on implementing the reforms    Francis sought to implement and saw the Vatican with its continuing emphasis on pomp, pageantry and privilege for some cardinals and bishops in the Curia, as increasingly stuck in a time warp.
  In 2019 he published a book entitled Correspondent. Groundbreaking events, backstage extraordinary meeting, the mysteries of life in the Vatican (Znak, Cracow 2019) ISBN 978-83-240-5813-6.
  A handsome man who always looked elegant even when he was broke, he always looked fit and younger than his years and was a popular figure in the Vatican press corps.
 He married first Lucia and they had a son, Jan. The marriage was dissolved and he subsequently married Sylwia, a Polish colleague, and they had a daughter, Antonia.
    Marek Lehnert, foreign correspondent and poet. Born in Warsaw July 19, 1950
    Died 28 March, 2020, of a heart attack in Rome, aged 69.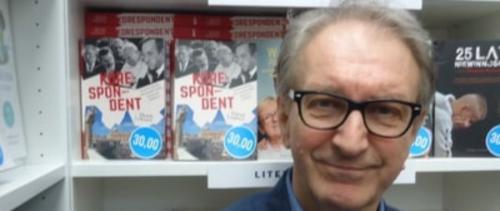 Lehnert with copies of his last book Correspondent,