Veneto hospital receives donations both large and small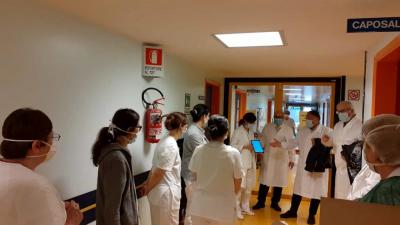 PHOTO CREDIT: TREVISO TODAY
TURIN – The De' Longhi Group has become the latest corporate group to donate to the region of Veneto, with three million euros going to initiatives that fight the coronavirus epidemic, according to a press release. "It is a deserved solidarity contribution for a territory to which this company and my family feel intimately linked, for it's up to us as a company in this moment of extreme need," said Chairman of the Board, Giuseppe de' Longhi.
  Of the three million euros, two million will go to the Veneto Region, to support the region in many different ways, and one million euros will go directly to the Ca' Foncello hospital in Treviso.
  As of Monday, there were 8,724 positive cases of coronavirus in Veneto registered, according to the regional bulletin issued by Azienda Zero.
  The Ca' Foncello hospital in Treviso has received a continuous stream of donations from large and small companies. Alongside massive donations, local pizzerias have been donating pizza, and local sports centres have been giving free fitness lessons, according to Treviso Today.
  As well as being a world leader in kitchen appliances and air conditioning units, De Longhi are a leading global supplier of Espresso coffee machines.
  In the meeting of the Technical Scientific Committee held on Monday morning, the assessment emerged of extending all containment measures at least until Easter. The Italian Health Minister, Roberto Speranza, said that small opportunities to re-open would not occur until the beginning of May, but coffee bars will be the last to reopen.
jmj