Italy infections 'decelerating despite new jump,' officials say.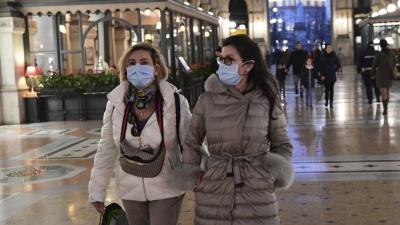 People wearing masks in the streets of Milan. Photo: MIGUEL MEDINA
 ROME -- The number of new coronavirus infections rose Thursday after droppiing for three days with 4,492 new cases registered. Deaths on the peninsula from the epidemic also increased to 712 since Wednesday though Civil protection officials insisted the overall speed of increase of new infections still is slowing.
 The surge in new cases compared with 3,491 new cases registered on Wednesday, 3,612 on Tuesday and 3,780 on Monday. 
 In all total cases in Italy rose to 80,539 so far and the total death toll from Covid 19 was 8215, officials said. 
Deputy Civil protection chief Agostino Miozzo said the increase in infections could be the result of increased testing in recent days. " We have to see the effects in the coming days of the decisions taken, we are already analysing the reasons for the small increment today ... the important thing is that the speed of increase of the curve apparently seems to be slowing," he said.
 Authorities are considering a massive road washing programme to try and reduce infection while a first contingent of volunteer doctors was being flown from the Pratica di Mare airport near Rome to Lombardy to help the worst hit towns of Bergamo, Brescia and Piacenza.
 jp