First Corona case in Pope Francis' residence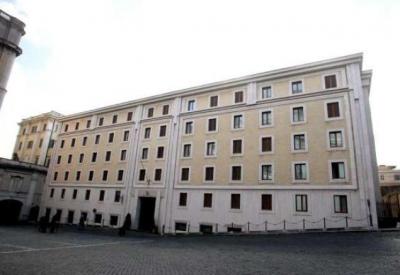 The Casa Santa Marta where Pope Francis resides.
 VATICAN CITY – The Holy See may consider introducing a general lockdown after a prelate living in the Santa Marta guesthouse where Pope Francis resides was hospitalized with Coronavirus as the pontiff continues to work with collaborators and still shakes hands with them after every meeting, Il Messaggero reported Thursday.
 The monsignor taken ill in the guesthouse is from the Vatican Secretary of State's office and was a close collaborator of the 83-year-old head of the Roman Catholic Church, the Rome newspaper added in a dispatch by its Vatican correspondent. In all some 30 Vatican officials live at the residence in addition to Francis, who now eats meals alone and remains for the most part in his modest two room suite where he has lived since the start of his pontificate, preferring not to occupy the vast papal apartments used by his predecessors in the Apostolic Palace.
 On Friday Francis is expected to prostrate himself at the porch of St Peter's Basilica in special prayers for an end to the Covid epidemic.  A miraculous ancient cross that is credited with stopping a plague in Rome in the 16th century was being moved Thursday from the Church of St. Marcello in the Via del Corso of Rome to be hung on the porch of St Peter's. The pope made a special pilgrimage on foot to St Marcello to pray in front of the cross earlier this month.
 Every guest meeting Francis is invited to disinfect their hands before meeting Francis who resolutely insists on shaking hands with them at the end of an audience, Il Messaggero said. The question of the pope or his close collaborators wearing masks has not been considered, the newspaper said.
 The monsignor taken ill at Santa Marta and rushed to the new Columbus hospital in Rome was the fifth person stricken by Coronavirus in the tiny city state which has some 500 residents with an average age of 70. A sixth case, an employee of the Vatican Governor's office, was discovered Wednesday, Messaggero said.
 Only three days ago the Vatican issued a statement saying that Vatican offices would not close though non-essential staff have been ordered to take early vacations where possible. After the latest infections, however, authorities may consider a general lockdown, Messaggero said.
 The Vatican may have been too slow to react to the epidemic so as to protect its staff, Messaggero suggested, noting that the Vatican Museums still were admitting crowds of thousands of tourists up until March 9. Two employees of the Vatican Museums are among the six people diagnosed with coronavirus within the Leonine walls so far.
 jp