Vatican remains open despite three more positive cases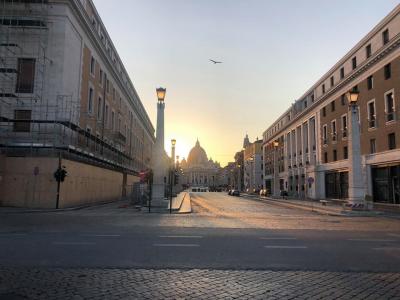 PHOTO CREDIT: Stephanie Lorenzo
VATICAN CITY - There are four cases of coronavirus in the Vatican, after three more people tested positive, the Director of the Holy See Press Office, Matteo Bruni, revealed while answering questions from journalists. In addition to the first case, reported by the press office on March 6, the new cases are that of an employee from the Freight Office and two employees from the Vatican Museum.
  "The four people had been placed in solitary confinement before they tested positive and their isolation has lasted for over 14 days. Currently they are being treated in Italian hospitals or at home," said Mr. Bruni.
  The Vatican decided on Tuesday afternoon that their offices would not close, despite the coronavirus epidemic which has ground the Italian economy to a standstill. Many of the Vatican rooms have not yet been sanitized, and many employees do not have masks and have only been observing the advice to keep meters away from other people, reports Il Messaggero. 
The Vatican press statement explained that quotas for office staff are being set up to ensure minimum exposure, and remote work is being encouraged as far as possible.
jmj