Italy daily death toll resurges to 742, new infections down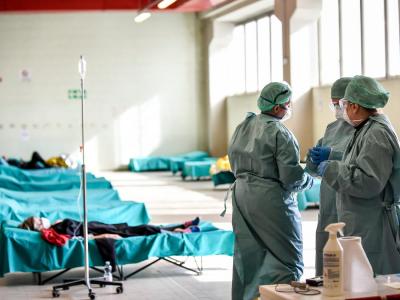 Medical staff and Corona patients in makeshift premises in Brescia
 ROME -- The number of deaths in Italy from Coronavirus jumped Tuesday to 742 over 24 hours after falling to 601 on Monday, civil protection officials said, though the number of new infections fell slightly to 3,612, from 3780 on Monday. 
 The new deaths took to 6820 the total number of people dead from the virus on the peninsula in a sign that the struggle to contain the disease is far from over while total number of  people currently infected is 54,030 of whom nearly 22,000 are hospitalised and nearly 29,000 are in isolation at home.
 The number of people who recovered from the disease rose by 894 over the past 24 hours to make the total cured 8,326. 
 jp