Swab tests for footballers while doctors and nurses in need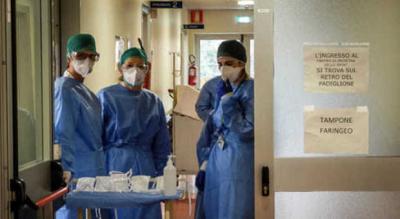 PHOTO CREDIT: IL GAZZETTINO.IT
ROME – The Gimbe Foundation, a non-profit that promotes the dissemination and application of scientific research, has urged all Italian regions to make swab tests for all health workers a top priority, after the number of healthcare professionals infected in Italy reached 4824, according to a data set released by the Istituto Superiore di Sanità (ISS).
  The Gimbe President, Nino Cartabellotta, has said that "the numbers show that we paid a dear price for the organizational unpreparedness." He went on to describe the lack of swab tests for health workers as a "lethal boomerang," as quoted in Il Fatto Quotidiano. 
  It has been reported that 24 Italian doctors have died from the coronavirus, and that although the regions have announced more swabs will be made, a phrase used by doctors is that "they swab soccer players but not doctors and nurses," as quoted in Il Messaggero.
  The Gimbe Foundation has also raised concerns about healthcare professionals in residential care. The concerns over residential care was made particularly clear in Spain, where the coronavirus has been particularly lethal and where the Spanish army have found some victims abandoned dead in their beds, reports La Stampa.
  Healthcare professionals infected with coronavirus in Spain in proportion to the total number is now at 12 per cent, exceeding even Italy, which, according to the data from the ISS, has the proportion at 9 per cent, as reported in Il Fatto Quotidiano. 
  On Sunday, the Cuban medical brigade called 'Henry Reeve', of 50 medical specialists, landed in Milan airport to make up for the shortage in experienced medical professionals, and were greeted with applause on arrival.
jmj