Italy lockdown tightened as state mulls tracing phone data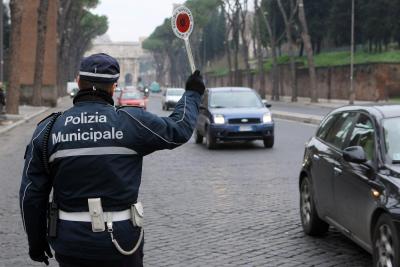 Municipal police checking motorists near the Colosseum
ROME – Tough new restrictions limiting Italians' movement came into effect Saturday with all parks and playgrounds closed, a ban on visiting second homes at the week-end, closure of bars in train stations and road blocks thrown up on consular roads in the Eternal City under sunny skies to check whether all motorists had an essential reason for travel.
 The government issued a "call to arms" for volunteer doctors to join a task force of 300 physicians to be sent into the areas worst hit by Coronavirus – nearly all in Lombardy and other northern regions though in Lazio the sleepy town of  Fondi 75 miles south of Rome was declared an off limits "red zone" that was sealed off after a surge in infections started at an old folks' home, officials said.
 Fatto Quotidiano newspaper underlined the shortage of protective clothing facing health workers at some hospitals by publishing a photo of one wearing a plastic bin liner.  
 In Milan mayor Giuseppe Sala announced plans to close tobacconists' stores while 114 soldiers were deployed to help lock down the Italian business capital but Lombardy governor Fontana said that ten times as many troops were needed in the city where infections have mushroomed recently after being confined to provincial towns in the region.
 Authorities are considering using cellphone data to trace the movements of citizens, Fatto Quotidiano reported,  in a measure that was sure to be controversial as an invasion of privacy rights.
 Taking exercise or a run is still permitted but only in the area of one's home on condition that people keep at least one metre away from others. Playing outdoors is forbidden and Rome mayor Virginia Raggi banned access to beaches in the Rome area.
Palazzo Chigi, the prime minister's office, said it was stopping short of closing supermarkets at the week-end for fear of making long queues even longer but supermarkets will close earlier, many at 3 p.m., on Saturdays and Sundays.
 Minister for innovation Paola Pisana said the government is working on using an app. to trace people's movements but that a decision would have to take into account the opinion of Italy's privacy watchdog Guarantor since "the right to privacy is fundamental like the right to health."
 "We are working on tracing everything," she said, "if we had this opportunity we would know all the people that we have met and it would be easier."
 jp 
A health worker wearing a platic bin liner.