Italy death toll overtakes China total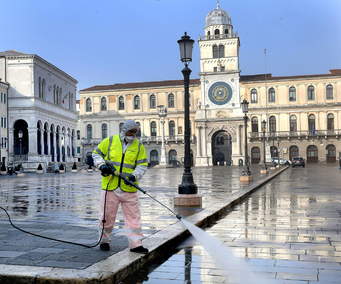 ROME -- The total number of people who have died from Coronavirus in Italy hit 3405 Thursday, meaning more people have died officially from the epidemic than in China where authorities say that 3245 people have died so far, Italian Civil Defense special commissioner for the emergency Angelo Borrelli said.
 The total number of infections in Italy so far hit 41,000 including deaths and those who have recovered, Borelli added in his daily news conference on the crisis. 
The number of people newly infected rose over the past 24 hours to Thursday by as many as 4,480, an increase of 14.9 percent after a relative decline in new infections in recent days.
 There were 415 more people cured of the virus over the previous 24 hours and the number of people who died was 427 compared with the record one day increase of 475 the previous day.
 The total number of people in intensive care was 2,498 including 241 more over the previous 24 hours, he said. Of the total 1006 are in intensive care in the worst hit region of Lombardy, the first time more than 1000 are in intensive care in the region.
 The increase in the rate of new infections was sure to put pressure on the government to tighten the quarantine lockdown in place in the country unless there is an improvement over the next two to three days, observers said.
 jp