Isolated experts discuss the long term effects of COVID-19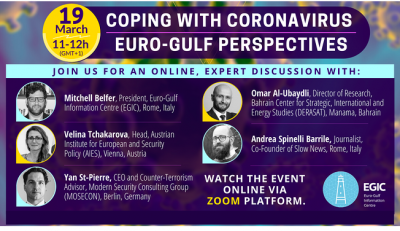 ROME – With world economies on the brink of recession, nations entering lockdown mode, and individuals practicing social-distancing, the short-term impact of COVID-19 is already observable, but there will be many long-term implications for our societies, and these were analysed in a wide-ranging discussion hosted by the Euro-Gulf Information Centre (EGIC).
  Via an online conference on Thursday, five international experts spoke, including Mitchell Belfer, President of the 'Euro-Gulf Information Centre'; Omar Al-Ubaydli, of the 'Bahrain Centre for Strategic, International and Energy Studies'; Andrea Spinelli Barrile, of 'Slow News'; Yan St-Pierre, of the 'Modern Security Consulting Group'; and Velina Tchakarova, who represents the 'Austrian Institute for European and Security Policy'.
  "With isolation comes a lot of frustration, and there's also a lot of fear," said Mr. Belfer from the outset, explaining that online events such as this would be put on by the EGIC throughout the coronavirus epidemic.
  Mr. Belfer sub-categorised the growing fear as political, economic, and health related, but these fears are not only because of immediate unknowns. These fears also exist because the way we understand our place in the world has come under massive strain, as we begin to sense that we haven't at all grasped the long-term implications of COVID-19.
  These are strange times indeed. On Wednesday, the Italian Medicines Agency (AIFA) reported that the increase in demand for drugs has been compounded by the strain on long-standing European supply lines. Already, we see nations mobalising their militaries to cope with the crisis. As the death toll rises in Italy, the Italian army have been transporting coffins from Bergamo to other regions that have availability, report La Repubblica. As the wail of abulences resounds around the UK, the British army mobalised 20,000 soldiers on Thursday.  
  But our future looks stranger still. COVID-19 alone might have been solvable, but a pandemic does not arrive with polite forewarning, and other problems do not simply take their leave at the moment of its impromtue arrival. Take, for example, the refugee madness on the Greek boarder, or the continuing migration crisis in the Mediterranean, in which 150 migrants landed on the island of Lampedusa in the last week alone. These problems are interconnected, they feed off each other – hundreds of cases of coronavirus have been registered in Africa from countries from which migrants depart, according to Il Messaggero.
  The coronavirus has already upended our expectations as to how these issues typically play out. "In Africa today there is a debate going on about preventing the spread of European migration," Mr. Belfer remarked, in what amounts to a stunning early shift on the international scene.
  But there will be long-term changes, usually neglected, that were discussed with interest during the EGIC's online discussion.
  One question which has far-reaching consequences is: how will government's of the world continue to react to the crisis? Mr. Barrile, a journalist who previously covered the EBOLA outbreak in Liberia, spoke about how, in these unprecedented times, we and our governments are faced also with a media pandemic, and we must not only demand that we as individuals manage our data consumption and data producation responsibly, but that we must also demand this of our elected leaders. "Sharing data is one of the most important thing that we have to do. Without data you cannot understand how the outbreak is moving, and how to respond."
  The consequences of anachronistic government action without data driven policy will have a profound impact on our future stablilty. "Africa now is just starting to fight against the virus, but they are moving together – sharing data and educating people are essential," said Mr. Barrile, who compared the situation in Liberia, where there are plenty of public health adverts and hand-sanitizer stations in every shop, to the Congo, which due to its lack of governmental structure is faced with an uncertain future.
  The significance of government intervention was further brought home by Ms. Velina Tchakarova, who predicted the disruption of global supply chains in February. During the conference, she argued that to keep national economies alive, a radical approach was needed in order to avoid utter economic devastation. Some countries are doing this. "Even a small scale country like Austria has launched a package that is 10 per cent of GDP right now," she said.
  But will it be enough? COVID-19 looks to be a litmus test for the EU. EU member states blocked funds for Italy, which saw a conflict emerge between the Commission and Germany and France. Does this mark the beginning of the end for trans-national governance? Mr. Omar Al-Ubaydli pointed out that "the disintegration of the EU is no longer just an academic point to discuss." 
  And if COVID-19 does lead to the breakdown of the international order, then what will take its place in the long-term? Yan St-Pierre argued during the talk that the pandemic will give extreme groups justifications, whether they be from the far left, or from the far right, or even from the religious. Those who call for radical change will be those with supporters at their backs.
  Whether this is actually something to be feared though, does not seem to be a question with an obvious answer. Many argue that the international order is already broken, systemically so, and thus in the long-term the changes COVID-19 brings about in our lives might well serve as an opportunity to rebuild our societies.
  Andrea Spinelli Barrile said at one point during the talk that, like with terrorism, the virus will change our lives. He went on to say that "we have to fight against this." Fighting an invisible virus does not feel like much of a resistence. Warlike analogies do seem a little suspect, (especially when they are employed by the French PM, Emmanuel Macron). To fight the virus we must band together, but to band together we must stay as far away from each other as possible. The experience feels much more passive than active.
  With terrorism there is something to be said for remaining unbowed and going on with our daily lives. It shows that we will not be made to cower.
  With an epidemic like this, most of us can do very little but wait. However, we might take the chance to reflect on how we might want our lives to change in the long-run.
jmj
President of the Euro-Gulf Information Centre, Mitchell Belfer