Pope walks empty streets and prays for pandemic to end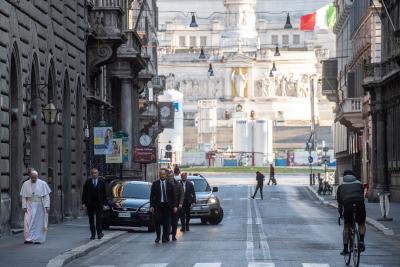 PHOTO CREDIT: VATICAN PRESS OFFICE
ROME – Pope Francis emerged from his residence to visit the Basilica of Santa Maria Maggiore and to address a prayer to Salus populi Romani, whose icon is kept there and venerated, report the Vatican Press Office.
   Francis left the Vatican on Sunday afternoon, shortly after 4:00 p.m., for approximately an hour and a half. After visiting the Basilica of Santa Maria and walking down the Via del Corso, the pontiff reached the church of San Marcello al Corso, within which there is the Crucifix which was carried in procession through the districts of the city in 1522 to finish the 'Great Plague' in Rome.
  The pontiff called for the end of the pandemic through his prayer, appealing for healing to be brought for the sick, and remembering the victims. He asked that the victim's family and friends find consolation and comfort. 
jmj