The Enchanted City rings with music still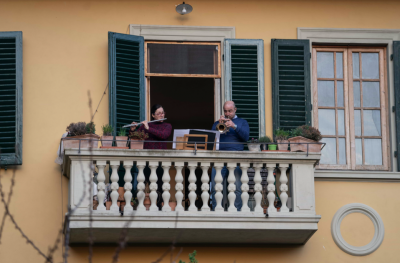 FLORENCE – Musical schools have collaborated to produce performances inspired by the 'musical balconies' that involved musicians and amateurs, and that have been giving encouragement and releif to the many Italian citizens who have been forced to stay at home during lockdown.
  On Sunday at 6:00 p.m., Mameli's Anthem rang out to unite Italians. Having dicussed with the authorities, the Music School of Fiesole, the Cherubini Conservatory, the Orchestra of Tuscany, and the Maggio Musicale Fiorentino, will continue to play and sing from their homes at this same time every Thursday and Sunday.
  They will play for those in the neighbourhood, their fellow citizens, as well as for themselves, and encourage all amateurs, to join to create a common Florentine orchestra across the city.
  Florence, known as 'The Enchanted City', has been engulfed in surreal silence following the cornoavirus outbreak. The silence, however, can bring with it the chance to appreciate new things, such as family relationships, citizen solidarity, and music.
jmj