China sends veteran doctors to Italy as fatality figures rise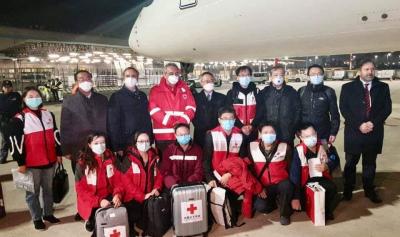 PHOTO CREDIT: Chinese Embassy
ROME – A team of Chinese medical specialists flew from Shanghai to Rome with over 30 tonnes of medical supplies to help Italy in the fight against the coronavirus pandemic. The team were sent by the Chinese Red Cross and touched down at Fiumicino Airport on Thursday night, and will soon be ready to contribute, reports the Chinese Embassy in Italy.
  Italy's health services have been stretched to breaking point by the coronavirus, with the infection rate overwhelming health servies and leading to exhausted medical staff sleeping in their offices. In one viral photo, the nurse Elena Pagliarini is shown collapsed face-down in a hospital in the northern regions after 10 hours of non-stop work.
  The number of cases in Italy climbed to 17660 on Friday. The death toll reached 1266, with 250 people dying in one day. Rome also saw 54 more coronavirus cases on Friday.
  Medical services are in a race against time as they prepare for infections to peak, which is expected in April.
  With thousands of Italians thought to have fled south from the northern regions before the lockdown came into place, there are concerns for the southern regions of Italy, which has an older population demographic and a weaker health care system in place.
  The Governor of Calabria, Jole Santelli, said that the Calabrian health care system had been "harassed for years by wild cuts," and would be unable to cope in an emergency situation, as quoted in Il Fatto Quotidiano.
jmj