Coronavirus in 'red zone' Rome as hoarders take to shops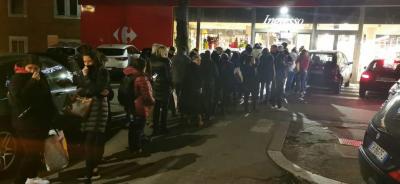 ROME – The Director of the Infectious Diseases Department of the Higher Institute of Health, Gianni Rezza, said in a television interview that Rome risks becoming like Milan as the virus starts to "spread around the city." 
  On Tuesday, the Lazio total soared over 100, with 60 positive tests for coronavirus in Rome, report Il Messaggero. Of the positive cases from Monday, seven were doctors in Rome. The ward they were working on has been sanitized to prevent the spread of infection, reports La Repubblica.
  Alessio D'Amato, regional councilor for Health in Lazio, said that "we are at war," as quoted in Il Messaggero, with Rome having suspended concerts, shows, discos, theaters, exhibitions, and meetings, following the Italian government's decree from the Palazzo Chigi. 
  After the announcement of the decree on Sunday night, Roman shoppers rushed to supermarkets.
  In front of the Carrefour of the Le Terrazze shopping center, crowds of people huddled at the entrance in stark contrast to the recommendations on the safety distances needed to stem the spread of the virus, reports Leggo.
  Long lines also appeared in other areas of Rome, such as outside the Todis on via Tuscolana, and the Carrefur on via Matteucci. Most shoppers were searching for hand sanitizer, canned food, and long-life foods, explained the deputy director of the Conad in via Buonarroti.
  The mayor of Rome, Virginia Raggi, called for the public to be responsible. "Every single gesture can prove decisive. Everyone must make an effort to protect our community. We need responsibility and respect for the rules, nobody can and must think that they are exempted."
  The Rome Commune issued a statement on Monday that 10 managers had been reported by the police for non-compliance with the new government decree, which obligates a distance of one meter between customers.
jmj