Juventus win but goal celebration sets bad example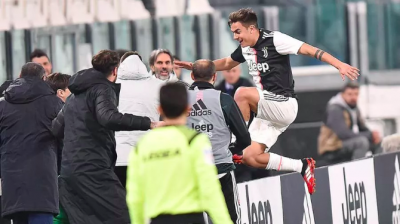 ROME – Juventus overtook Lazio at the top of the table after a 2-0 victory against Inter Milan, with the contentious decision to proceed with Serie A games on Sunday meaning that the five weekend fixtures occurred in empty stadiums that rang only with the eerie shouts of "mine", "keep it", and "man on." The reigning champions had very little possession for the first half, but the dynamic of the game shifted when Juventus number eight Aaron Ramsey whipped the ball under the arm of the sprawling Inter keeper for Juventus' first.
  Juventus' second came from Paulo Dybala, who cut away from his man on the outside to slice the ball with the outside of his boot low into the far corner of the net. Dybala then proceeded to celebrate wildly, running to the bench and embracing with the whole squad, which did not seem to comply with the government's advice to keep one meter away from each other due to the coronavirus.
  It may not be possible to do this on a football pitch, and while this might excuse the Juventus players, it does raise questions as to whether proceeding with football matches sets a bad example in the first place.
  The Italian Football Association (AIC) stated on Sunday that it is their opinion that the championship must be stopped, as the signal that the sport is giving to the public is a bad one. Italy's sports minister Vincenzo Spadafora has accused the Serie A on radio of being "irresponsible" for allowing the football to continue. 
  In a note, the AIC stated that there will be an Italian Football Federation (FIGC) meeting on Tuesday, from which "we expect only one thing – the suspension of the championship."
  AC Milan's poor season continued on Sunday with a 2-1 loss to Genoa. A late goal from Zlatan Ibrahimović, who missed several chances during the match, was not enough to inspire his side.
  Elsewhere, Fiorentina drew 0-0 with Udinese, and SPAL shocked Parma 1-0. The unexpected result saw SPAL, who had been at the bottom of the league, overtake Brescia, who sink into last place.
jmj