Pope says close to coronavirus sufferers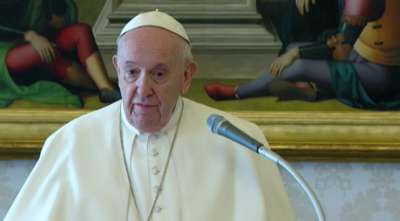 Pope Francis delivered his Angelus from the Papal library
 VATICAN CITY – Pope Francis Sunday in an unprecedented Angelus address from the papal library said he is close in prayer to people suffering from Coronavirus and told the faithful that the period of Lent helps give an evangelical sense to the challenges posed by the epidemic.
 At the end of his streamed address the 83-year-old pontiff appeared briefly at a window of the papal apartments and made the sign of the cross in blessing of pilgrims and tourists in St. Peter's  Square.
 Francis' remarks were broadcast by video streaming instead of his normal speech from the window of the papal apartments. "It is a bit strange this Angelus prayer of today with the pope caged up here," Francis said at the start of his remarks.
 "I am close in prayer to all persons suffering from the current epidemic of coronavirus and all those who is being cured. I remembered them a lot in these days of retreat."
 "I join with my brother Bishops in encouraging the faithful to live this difficult moment with the strength of faith, the certainty of hope and the fervor of charity. The time of Lent helps us to give an evangelical sense to this moment of trial and pain," Francis said.
 At the start of his address the pope also thanked people who were demonstrating in St. Peter's Square with a banner saying "remember the forgotten of Idlib," the beleaguered Syrian rebel enclave under siege by Syrian and Russian forces.
 "I greet the associations and groups who are involved in solidarity with the Syrian people and especially the inahabitants of north western Syria, forced to flee by recent developments in the war."
 "I renew my great apprehension for the inhuman situation of these helpless people, among whom many children, whose lives are at risk. One must not lose sight of this humanitarian crisis, but instead give it priority compared with any other interest," the pope said.
 jp