Tracked ship from Columbia ends in titanic drugs bust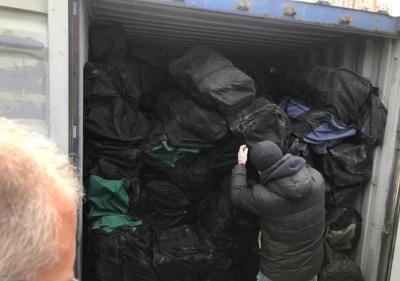 PHOTO CREDIT CORRIERE DELLA SERA
LIVORNO – Over three tonnes of cocaine worth 400 million euros was seized in the port of Livorno, on the west coast of Tuscany, in what is the second largest drugs bust in Italy in terms of quantity, reports the Florentine DDA Giuseppe Creazzo.
  The ship had set sail from Colombia, and when it docked in Livorno on Monday it was searched by carabinieri on the basis of a tip off from French investigators. The drugs were found in backpacks that weighed around 37 pounds each.
  In a press conference with the Marseille prosecutor and the Florentine DDA, it was disclosed that French investigators, through a European investigation begun by the prosecutor in Marseille, had communicated with Italian authorities that a ship trafficking drugs and flying the flag of the Marshall Islands was set to arrive at the port of Livorno.
  The Italian authorities did not stop the ship, which was intended for Marseille, but emptied the backpacks of drugs and filled them with other material so that they were the same weight, before allowing the ship to continue. One bag they left untouched, so that arrests could be triggered for drug trafficking.
  The ship then continued on its journey to Marseille, travelling north and stopping temporarily in the port of Genoa, where bugs were placed and wiretapping began when the vessel entered French waters, reports Il Messaggero.
  When the ship arrived in Marseille on Thursday, three men arrived with a truck and collected the backpacks. French law enforcement officers followed them to a house, where they surrounded the building and arrested them, reports Il Fatto Quotidiano.
  The last major seizure of cocaine in the port of Livorno occurred in Nov. 2019, and this time they were found hidden amongst timber in a ship from Brazil. That time the drugs were worth 25 million euros, according to fanpage.it.
jmj