Shoddy EU treatment of Italian Schumann trainees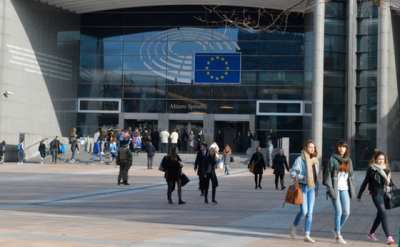 PHOTO CREDIT EPTRAINEES.EU
BRUSSELS - Italian Schumann trainees at the European Parliament were left feeling confused by absurd contradictions in their communications with the EU traineeship office on Tuesday, after receiving a single email that said they would not be able to begin the scheme if they had arrived from or passed through the Italian regions of Lombardy, Veneto or Emilia Romagna.
  Thirty-five Italians were given the choice of dropping out or postponing their place on the European Parliament scheme until Sept. 2020, and many of them found themselves cancelling flights, losing deposits and rent payments, and losing out on other expensive decisions that had been made.
  The situation was addressed when, less than 20 hours after the story exploded in the press, EU President David Sassoli tweeted on Wednesday night that after a period of quarantine the trainees were permitted to begin the scheme.
  The email that had announced their initial rejection for the current intake was sent less than a week before the beginning of their cycle in Brussels, and did not include any reassurance regarding reimbursements, and did not include an explanation, although there is a clear link to the coronavirus outbreak in the north of Italy.
  The European Union are not so unified as they like to portray. Last week the Euro MPs were advised, and only advised, to stay in quarantine, and the panicked reaction to Italian trainees appears particularly uncoordinated, given that on Monday neither the Milanese airport nor the Brussels airport had set up health checks or any extra procedures for incoming flights.
  In Brussels a mural reads – "The Future is Europe." Even if things end well and the EU learns their lesson, Italian trainees were left wondering if they had been discriminated against, and this was the Europe they had imagined or wanted.
ag jmj