Rescued migrants dock and are quarantined in Sicily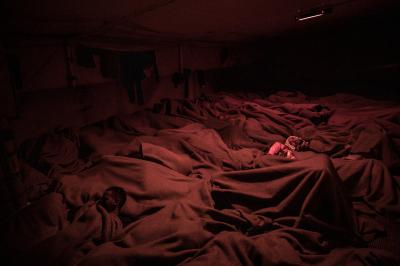 PHOTO CREDIT SEA WATCH INTERNATIONAL
MESSINA – Sea Watch 3 arrived in the port of Messina on Thursday morning with 194 migrants on board, after three rescue operations which took place from Sunday to Wednesday were conducted north of Libyan waters, according to the NGO Sea Watch International. Spokesman for Sea Watch, Giorgia Linardi, said that the ship was carrying 10 times the regular number of people.
  Italian authorities announced a quarantine on board for the crew and on land for the migrants who were rescued, as part of coronavirus prevention measures. The migrants will be isolated and quarantined in the Gasparro di Biscontea barracks for 14 days, La Sicilia reports.
  "While fully respecting precautionary health measures, we question the enforcement of quarantine with NGO ships only," stated Sea Watch International via their Twitter account.
  On Wednesday, the President of the Sicilian Region, Nello Musumeci, asked Prime Minister Conte to dock the ship elsewhere due to the "significant hygiene and health issues emerged regarding the reception of new migrants."
  Ex–Minister of the Interior, Matteo Salvini, posted on Facebook in support of Musumeci on Wednesday, comparing closed Italian cities to open Italian ports and describing the situation as "sad and grotesque." He criticised Contes decision to allow Sea Watch 3 to dock. "Sicily cannot be transformed into a quarantine island," he said.
  Two other boats remain in distress off the Libyan coast. According to the Sea Watch team, on one of the other boats there are 85 people fleeing Libya. "We lost contact and we don't know what happened. All authorities are informed but Malta refuses to intervene. Help is needed," the team said, as quoted in La Stampa.
jmj