Weinstein prosecution puts spotlight on aid industry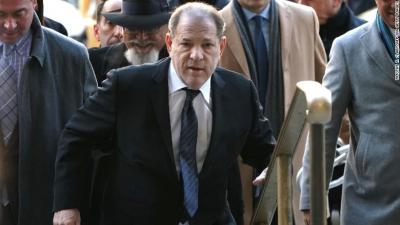 ROME - Harvey Weinstein, who was convicted of third-degree rape and a first-degree criminal sexual act charges on Monday, would have gotten away with it if he had been an aid worker, according to international child protection charity, Hear Their Cries. In a statement on Tuesday, Hear Their Cries have said that too little is being done to stop sexual abuse in the aid industry, with criticism levelled at the UK government's minimalist approach.
  Under British Law those who abuse children overseas can be prosecuted under Section 72 of the Sexual Offences Act - the Child Sex tourism Laws. Yet this law has not been enacted once against an aid worker, and there have been zero prosecutions.
  This is despite the 2018 UK Oxfam scandal, which emerged after a Times article alleged that Oxfam had covered up claims that senior staff working in Haiti in the wake of the 2010 earthquake had used underage prostitutes. Oxfam's internal report later admitted that three men had used physical threats to silence sexual misconduct allegations from witnesses in 2011.
  "Even though the Oxfam Scandal showed us there is a problem, we still see no prosecutions," said Professor Andrew MacLeod, spokesperson for Hear Their Cries.
  In 2017 the British House of Commons released a report on an aid sector that indicated that the scale of abuse was impossible to calculate because of a lack of data.
  On Tuesday the UK's Department for International Development called on agencies to sign up to a voluntary scheme to share data on aid workers who abuse women and children overseas. Hear Their Cries have said that although it welcomes it as "a positive step, it is far from enough."
  "This is like movie producers agreeing to share data on abusers, but not prosecuting them or calling them out", said Professor MacLeod. "While the estimate are that there are likely to be thousands of men with paedophilic tendencies working in the aid industry today, this first step is only preventing a handful gaining a job and is prosecuting none."
  One academic report pointed out that UN peacekeeping deployments increased the odds of child transactional sex.
  "The estimated odds and hazard ratios indicate that women, in this case fourteen to eighteen year olds, are more likely to engage in their first transactional sex when the number of deployed UN peacekeepers is larger," according to the report 'Peacekeeping, Compliance with International Norms, and Transactional Sex in Monrovia, Liberia' by Bernd Beber, Michael Gilligan, Jenny Guardado and Sabrina Karim.
  Their randomised surveys, conducted in 2012, indicate that half the female population surveyed had engaged in transactional sex, with 75% of those having transactional sex with United Nations staff.
  "According to the report there are many tens of thousands just in Monrovia, let alone the rest of Liberia, let alone the rest of the world," said Professor MacLeod."
  Hear Their Cries has been criticised in the past for exaggerating the problem, however the report shows that the Hear Their Cries estimate of 60,000 victims in the last decade might be under-estimating the problem.
  "Like with Harvey Weinstein, change will only happen when people go to jail. The aid industry still refuses to put people in jail," Professor MacLeod concluded.
jmj