Anti-drug trafficking conference takes on Italian mafia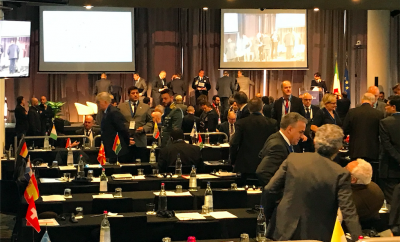 PHOTO CREDIT: JACK MORGAN JONES
ROME – Defence and police officials from around the world met on Friday to discuss the problems of drug trafficking in the modern era, in an attempt to develop common strategies that will help fight the drug-overdose epidemic.
  The conference 'No Drug, No Problem', took place at the Radisson Hotel and included multiple speakers from around the world, including Italian representatives such as Commander of the ROS Carabinieri, General Pasquale Angelosanto, and Commander of the Central Service of Investigations on Organised Crime, General Allessandro Barbera. The American Drug Enforcement Administration (DEA) attaché for Italy, Mr. Scott Seeley-Hacker, was also in attendance.
  The Italian mafia has re-emerged in recent years as a threat in America, according to Mr. Seeley-Hacker. "We now see the 'Ndrangheta deeply embedded in the United States," he said. General Angelosanto also referred to how prevalent the 'Ndrangheta have become in their drug trafficking operations. America is a drug consumption country, which Mr. Seeley-Hacker said "was not something to be proud of," but the majority of the discussion focused on what to do about the links between production countries and organised crime.
  The 'Ndrangheta source their drugs from countries like Mexico, where they have major financial interests that enable them to operate in the multi-billion-dollar drug trafficking industry. General Barbera said that there was a need to "replace the idea of Adam Smith's that crime can't create wealth," because the Italian mafia do just that, and have changed their identity to rely on a business-like approach through which they provide jobs which in turn sustains the social consensus that supports them.
  Anti-drug trafficking law enforcement agencies are faced with increased difficulties and complexities in the modern era. For example, cryptocurrencies make financial transactions much harder to track. North Macedonia's Director for Public Security, Mr. Sash Tasevski, referenced the increasing importance of the 'dark web', and said that through online interactions drugs are posted to the 'Balkan route' in Europe, which in recent years has been used as a transit zone through which drugs are trafficked from Turkey to Western Europe.
  Another problem for law enforcement is that illegal distribution networks are increasingly embedded and well connected. Spain, for example, has become another problematic transit zone, due in part to its close historic ties with Latin America. The Head of the Spanish Narcotics Central Brigade, Comisario Antonia Duarte, spoke of the development of new Moroccan and Chinese criminal organizations in Spain, but said that it is Columbian criminal groups in particular that present "a real problem for us." 
  The largest cartels were broken up in Columbia in the 1990s, and a peace process started in 2016 has led to a significant reduction in cartel violence since. The Colombian Colonel, Fabio Ojeda, said at the conference that there have, however, been unintended consequences. Columbia is now attractive to European drug traffickers precisely because of the reduction in violence, with drugs from Columbia also being bought because the purity can be more easily controlled.
  It was said by many speakers at the conference that national authorities will focus not only higher up in the chains of command, but will also focus on financial assets which are, according to General Barbera, of "fundamental importance." Although "we can seize huge amounts of drugs, without seizing the assets it's like trying to collect sea water with one glass," General Barbera said.
  "As police we are not as fast as the bad guys. We have to play by the rules," admitted Mr. Seeley-Hacker, who also said that to keep pace in the modern world, law enforcement agencies would need to combine their anti-drug programmes and collate their databases, such as though liaison officers and bodies like INTERPOL.
  The latest figures from the Centers for Disease Control and Prevention show that, in American, deaths from drug overdoses have risen to 70,000 people a year as of 2017.
jmj