'Toxic slime' protest over leather at Milan Fashion Week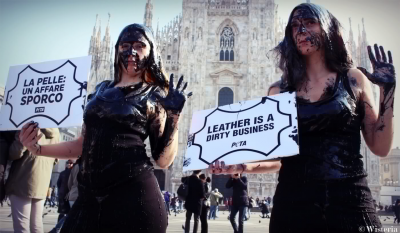 MILAN – A group of protesters surprised onlookers at Milan Fashion Week when they poured "toxic slime" over their bodies to highlight the hazardous waste products of the fashion industry. 
 On the PETA supporters' buckets were the messages - "Leather: a dirty business" and "Dump Leather."
 "Nobody needs cowhide except the innocent animals that were born with it," PETA director Elisa Allen said in a statement on Tuesday. 
 "PETA urges Milan Fashion Week to protect animals and the planet by starting to eliminate toxic and cruel leather from the catwalk," Allen said.
 Every year, more than a billion animals are slaughtered for their skin, PETA said. 
 Leather is the most environmentally damaging material used in clothing manufacture, according to a 2017 Pulse of the Fashion Industry report.
 In a PETA video, Leona Lewis explains how tanneries use toxic chemicals to prevent animal skin decomposition. 
 Workers, including children, are shown standing barefoot – unprotected – while immersing the animal skins in carcinogenic chemicals. The harmful waste is then discharged into the river.
 "An estimated 90 per cent of tannery workers there die before the age of 50," Lewis said. "The production of leather hurts animals, workers and the environment."
 The songstress urges consumers to buy clothing made of cruelty free synthetic natural fibres. 
 Last year, Helsinki Fashion Week banned animal leather on the catwalks in the Finnish capital, encouraging designers instead to use plant-based alternatives.
 cc