Dark horse Lazio romp upwards in the league standings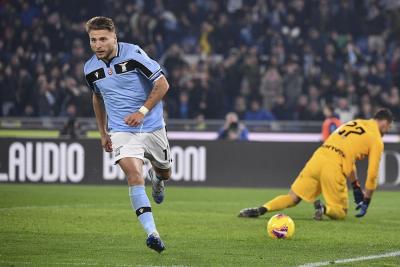 PHOTO CREDIT: MUNDOCRACKS
ROME – Lazio dispatched Inter Milan with a 2-1 victory on Sunday, and displayed the physical and mental attributes needed to win Serie A for the first time in 20 years.
   In a highly tactical performance, Lazio pressurised Inter throughout a goalless first half, but fell behind when Inter struck through a volley by Ashley Young. The ball fell helpfully at the ex-Manchester United player's feet, and he thumped in his first goal for Inter Milan on the full.
   An undeterred Lazio drew level through a penalty from Serie A's top scorer Circo Immobile, before the winning goal was hit home by Milinkovic-Savic, who slammed the ball into the left-hand corner. The match ended with both teams spoiling opportunities. Inter had a header from Lautaro Martinez disallowed, before Immobile, after a lovely touch, couldn't provide a finishing one in a one-on-one with the keeper.
  Lazio have now replaced Inter in the league standings, moving up to second and only one point behind leaders Juventus. Lazio have only won Serie A twice and Inter have now been beaten twice in this campaign, in what could be the beginnings of a reversal in fortunes for the two sides.
   Juventus earned an expected victory on Sunday against second-last placed Brescia. The score ended 2-0, with the seminal moment in the match coming when Brescia's Florian Aye was red carded and Paulo Dybala curled home the resulting free-kick from inches outside the box.
 Juventus rested Cristiano Ronaldo, but fan-favourite Giorgio Chiellini played his first match in 6 months, coming on as a substitute late in the game.
  Mid-table AC Milan play Torino on Monday, in a game that although they were expected to win is nevertheless high pressure, due to speculation that surrounds the future of their head coach Stefano Pioli. In an interview with La Repubblica, Pioli said that "in a great club like Milan rumours are normal. I'm not worried about my future. I'm not even thinking about it."
jmj