Locust plague on the cusp of humanitarian disaster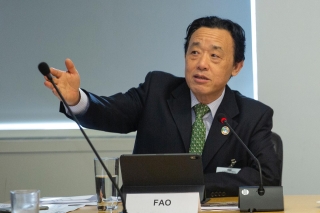 NEW YORK – The Director-General of the Food and Agriculture Organisation (FAO) Qu Dongyu has said that greater action is needed to prevent a humanitarian crisis in East Africa, with a Desert Locust surge now affecting seven countries and threatening to spread even further, reports the FAO in a news release.
  Director-General Dongyu addressed donors and representatives from the affected countries in New York on Wednesday, alongside Mark Lowcock, the United Nations Under-Secretary-General for Humanitarian Affairs and Emergency Relief Coordinator.
  The Desert Locust is considered the most destructive migratory pest in the world. A swarm covering one square kilometer consumes the same amount of food in one day as 35,000 people does. "It is clear that already vulnerable populations could easily be pushed into a major humanitarian crisis unless we act fast to protect their livelihoods," Director-General Dongyu said. Currently, the FAO is helping affected governments with monitoring, surveillance and coordination assistance.
  The locust outbreak is the worst to strike Ethiopia and Somalia in 25 years, and the worst Kenya has experienced in 70 years. Djibouti, Uganda, Tanzania and Eritrea have also been affected. 
"I fully support implementing anticipatory action to safeguard the livelihoods of affected and at risk populations and also building resilience in communities to prevent potential crises," Director-General Dongyu said.
  Director-General Dongyu also noted that of the 76 million dollars the FAO requested to deal with the five countries initially impacted, the FAO has only received around 22 million.
  There are 13 million people currently dealing with severe acute food insecurity in the region, and if the locust infestation continues to spread a further 20 million are on the verge of falling into the same category. Potential large-scale impact on crops and pasturelands in the region would have devastating consequences, not just for households but for regional supply chains too, possibly sparking a food crisis, the FAO summarise.
  The FAO's information service claims the plague will be exacerbated by new infestations, with more locusts swarms expected to hatch in February and early April.
jmj