FAO 'cash for jobs' probe losing impetus?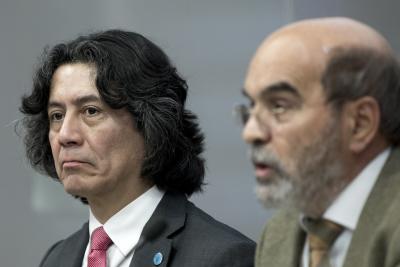 Fernando Servan (left) with former FAO DG José Graziano da Silva. Photo credit: FAO
 ROME -- Investigators probing a former head of the human resources department at the FAO on charges of allegedly demanding cash in return for jobs as well as sexual harassment are having difficulty making the charges stick despite a raft of accusations, FAO sources say.
 Peruvian Fernando Servan was suspended from his position as HR director at the Rome-based agency last summer but continues to receive full pay as the investigation drags on, said the sources. Investigators had gathered evidence from as many as seven people who alleged they had been asked to make payments in return for jobs, leading to a charge of abuse of power, said the sources, speaking to the Insider on condition they not be named.
 The long-haired executive, who reputedly worked as a cab driver before joining FAO, was dubbed a 'sex predator' by the NGO Hear their Cries, which works to fight sexual abuse at the United Nations.
 If he were cleared he would not be able to resume his controversial reign as HR director as a new, female HR director, from Belgium, has been appointed to the post in the meanwhile.
 Former UN investigator Peter Gallo commented that "the prospect of Servan being cleared does not actually surprise me.  It is precisely why the UN prefers on employing 'investigators' who are deaf, dumb and so stupid they could not find their own ass in the dark …"
  Servan's suspension and the departure of the head of investigations at FAO raised hopes that director general Qu Dongyu would usher in a new era at the troubled UN agency. 
 jp