Vandalized Zaki poster will not 'silence us'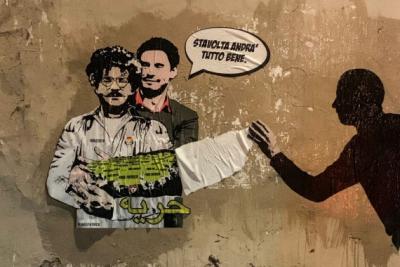 ROME – The vandalizing of a mural depicting murdered Cambridge University student Giulio Regeni embracing Patrick George Zaki, another student arrested arbitrarily by security services and tortured in Egypt, will not 'silence us,' the artist behind the image said on Wednesday. 
 Instead, the artwork, which appeared on Feb. 10 on a wall surrounding Villa Ada, near the Egyptian embassy in the Eternal City, has been reimagined. 
 According to the artist, the 'misfortune' has given the poster a new life.
 "After it was [torn], many asked me to reattach the work," artist Laiki said.
 "But the beauty of street art is precisely this: the works become living organisms in continuous evolution and, as such, they can change."
 In the 'second act' of the embrace between Giulio Regeni and Patrick Zaki, the artist wanted to represent the exact moment a mystery person tore the poster. 
 The new work depicts a shadow whose hand tears Regeni and Zaki's embrace. But Laika has filled the blank space with a group of people, led by the artist herself, all holding yellow placards with the words – 'Free Patrick.'
 "I wanted to make it clear that nobody can silence us, that a drawing can be torn but there will always be someone behind it ready to shout loudly," Laika said in a statement.
 "All in all, the anonymous person who tore the poster did us all a favour: it shows that together we can change things," she said.
 In the poster, 'freedom' is written in Arabic in front of the pair and Regeni reassures Zaki with the words –  "This time everything will be ok." 
 Zaki, a researcher on gender and human rights at Egyptian Initiative for Personal Rights (EIPR), who flew to Egypt from Italy to visit family, was arrested at Cairo's international airport on Feb. 7 and disappeared for 24 hours. 
 The Egyptian activist was taken to his hometown of Mansoura where he was interrogated. 
 Zaki's lawyers said the 27-year-old, who had been in Bologna since August 2019 for postgraduate studies, was beaten and subjected to electric shocks.
 Among the accusations against the student are: publishing false news; "harming national security"; and intending to overthrow the state.
 Immediate parallels were drawn between his case and that of the unsolved murder of 28-year-old PhD student Giulio Regeni.
 Regeni's body, which was found in a ditch on the outskirts of Cairo several days after he was murdered in early 2016, bore signs of torture and electric shock.
 An Italian citizen who had been researching Egyptian trade unions, Regeni is known to have been killed by Egypt's security services.
 Artist Laika aimed to highlight Zaki's detention and put pressure on the Egyptian government in the hope of a positive outcome.
 "What happened to Giulio Regeni and many others cannot be allowed to happen again," Laika said. "This time everything MUST be ok." 
 cc