Fears over growing high-speed rail network after fatal crash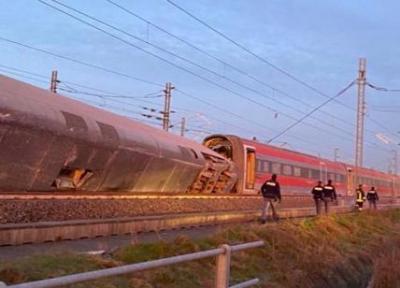 Photo credit: Polizia di Stato
 ROME – As the probe into the Lodi high-speed train crash that killed two men continues with the tragedy suspected to have been caused by a mispositioned railroad switch, some commentators suggest the Italian rail network has grown too fast for its aged infrastructure.
 While high-speed train travel has changed the face of Italy, the Lodi accident has drawn attention to the problems inherent in the rail line that connects Turin with Salerno, La Repubblica reports. In the stretch of track between Milan and Rome, in particular, a train reportedly runs every 12 minutes in each direction. Two thirds of these trains are run by state-owned train operator Trenitalia, and the remaining third by private competitor Italo. 
 The 12-minute interval between locomotives means the slightest hiccup - a fault or a train breakdown – can cause a chain of "domino effect" delays. The shorter the time between trains, the more stressed the network becomes and the more maintenance required. It also leaves less time for essential maintenance works. 
 The ageing stretch of track between Rome and Florence – known as "la Direttissima" – dates back to 1970, giving Italy the honour of becoming the first European country to start building a high-speed line. Trains, which generally travel at 300 km/h, never exceed the speed of 250 km/h in this section. And while a 2009 Ansa news agency report promoted a 2 hour, 59 minute journey between Rome and Milan, nowadays it is difficult to find a single connection between the central stations of Rome and Milan that takes less than 3 hours, 10 minutes. Hence, the heavy locomotive traffic has forced a recalibration of the travel times on the Milan-Bologna and Rome-Florence sections. 
 Plans were proposed to reduce the journey time between the Eternal city and the Lombard capital to 2 hours, 40 minutes. This would have been further reduced to 2 hours, 20 minutes had a proposed Florence underground rail crossing been built based on the Bologna model, which accommodates high-speed trains on platforms four floors below Bologna Centrale train station. But, the Ministry of Infrastructure quashed the idea just a few weeks before the Conte I government took office. Among the reasons cited was the risk of an increase in maintenance costs without a guarantee of punctuality.
 Meanwhile, railworkers' trade unions are demanding answers, calling for new safety measures. 
"Safety procedures must be put in place. We have to reassess everything," Italian Federation of Transport Workers' spokesperson Giovanni Abimelech said. 
 "Today the trains are running, yesterday the phonograms said that it was alright but it wasn't like that. If there is human error it means that things are not going well. One more step is needed for confirmation. Because this mustn't happen again. As of yesterday we lost a little faith in the fact that the trains are safe. We have to reassess the procedures."
 The railworker trade unions were to hold a two-hour strike from noon Friday.
  cc