Italian tests positive for Coronavirus in Rome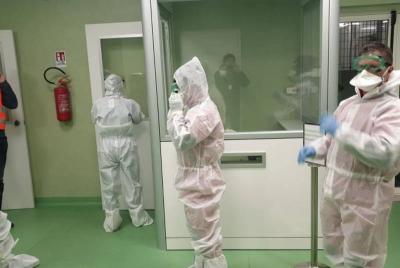 ROME – One of the Italian nationals flown out of Wuhan on Monday has since been transferred to Spallanzani hospital after tests revealed that he has been infected with coronavirus, report Italian health officials.
  The Italian national had originally been transferred to Cecchigonal military hospital, along with the 55 others who had also been repatriated, reports Il Fatto Quotidiano. This is now the third case of coronavirus in Rome. Previously, two Chinese tourists travelling on board the 'Costa Smeralda' cruise ship were hospitalized after the cruise ship was quarantined on Jan. 30.
  Another cruise ship, the 'Diamond Princess' was quarantined in Yokohama Bay by Japanese officials on Monday night, and recorded cases of coronavirus on board have risen to 61. There are 35 Italians on board, but a notification on Thursday from the Italian Foreign Ministry revealed that no Italians have tested positive. Also on Thursday, the Italian President Sergio Mattarella visited the 'Daniele Manin' school in Rome's Chinese district to promote an inclusive message and counterbalance anti-Chinese discrimination. 
  The most up-to-date figures indicate that the death toll in China has risen to 636, with the number of confirmed cases exceeding 30 thousand. Heightened tensions around the world has occurred in part due to misinformation, as even governmental and intergovernmental bodies have been contradicting each other. While Chinese health officials have been celebrating the discovery of two effective drugs at Zhejiang University, the World Health Organisation (WHO) has maintained that there is still no known cure for the virus, according to Il Fatto Quotidiano.
  Coronavirus fears have also been stoked by the lack of transparency from China, leading to speculation that the Chinese government have downplayed the extent of the numbers infected. Sophie Richardson, the China director at Human Rights Watch (HRW), has raised concerns about the transparency of China's response, and attacked the Chinese government's "obsession with stability above all else," on Twitter.
jmj