Food crisis in Africa in an 'unprecedented escalation'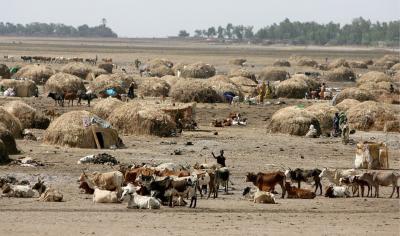 PHOTO CREDIT: EPA/Nic Bothma
DAKAR – The humanitarian crisis in Central Sahel is set to deteriorate further, with millions already in need of immediate assistance, warn the Food and Agriculture Organisation, the World Food Programme and UNIFEC in a joint press release.
  The Central Sahel is a semi-arid region in Africa. It lies underneath the Sahara desert to the north and above the savanna to the south, and stretches from the Atlantic Ocean to the Red Sea. As well as 3.3 million people who need immediate assistance, almost 4.8 million people will be at risk of food insecurity through from June to Aug. 2020, UN agencies stated on Monday.
  The two main reasons cited are climate change and regional insecurities. Regarding the former, climate change has caused a spike in temperatures which is thought to have disrupted nomadic livelihoods. Regarding the latter, armed conflict and banditry has been threatening the mobility of animal herds and access to water resources, and the solution of concentrating animals in more secure areas only carries with it the risk of exacerbating conflicts with land owners.
  Burkina Faso, Mali, and Niger were cited as countries of particular concern. In Burkina Faso the number of internally displaced people is already six times higher in than it was in Jan. 2019. Agency estimations suggest that the total number of people at risk in the Central Shel is as high as 14.4 million.
  "We are seeing a staggering rise in hunger in the central Sahel. The number of food insecure people has doubled after harvest time, when it should have dropped. Unless we act now, a whole generation are at risk," said Chris Nikoi, Regional Director for World Food Programme in West and Central Africa. 
  The UN agencies advise an immediate response to tackle those currently suffering from hunger, as well as long-term investments in rural livelihoods and social services.
jmj