Libyan soldiers flee Italy after mysterious stabbing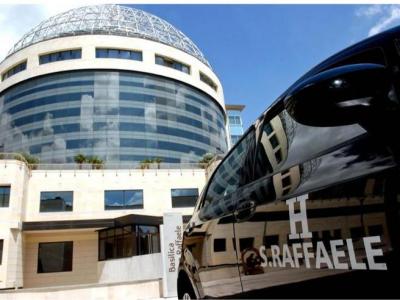 PHOTO CREDIT: CORRIERE DELLA SERA
MILAN – Italian officials are looking for two Libyan ex-soldiers who vanished on Jan 13 after a stabbing in the Hotel Rafael, Il Giornale reports.  
  The victim is reported as a man named Mohammed Ali Mohammed Abdulhafith, 32, who was stabbed three times in the thigh and was cut once across the shoulder in room 320 of the hotel. Bloodstains were found on in the bedroom and the bathroom, reports Corriere Della Sera.
  The reasons for the stabbing are unclear. While the two suspects were under interrogation from the Italian police at the Hotel Rafael, Libyan officials arrived from the consular office and took them away in a car using diplomatic immunity, reports Corriere Della Sera. The current location of the two men is unknown, but they are thought to have fled the country to Tripoli, according to security sources.
  The San Raffaele Hospital is situated next to the hotel, and the Libyan soldier was treated there for his wounds following the attack. The Orthopaedics and Traumatology Department of the hospital also have 20 other Libyan veterans undergoing treatment, following an agreement mediated by the Holy See and the Libyan authorities in the spring of 2019, according to La Stampa.
  Digos, the General Investigations and Special Operations Division, has launched an investigation led by Claudio Ciccimarra, alongside Alberto Nobili who works in the counter-terrorism department in the Milan prosecutors office. The investigation is said to concern government, police forces, and secret services, according to Il Giornale. 
  There is ongoing speculation over whether the two suspects are not only ex-combatants, but are also Libyan spies with potential links to Islamist forces, reported Corriere Della Sera.
jmj