Sardines return to Bologna ahead of crucial regional vote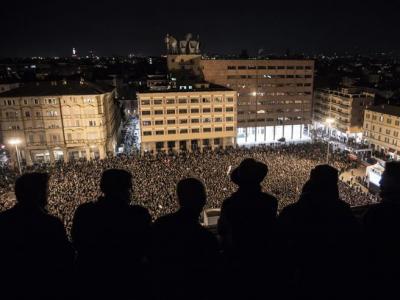 The protest in Bologna. Photo credit: Corriere della Sera/Twitter
 BOLOGNA – The Sardine movement's latest protest drew a crowd of 40,000 people to Bologna just one week ahead of the crucial Emilia-Romagna regional elections.
 The demonstration Sunday took the form of a line-up of music performances and speakers continuing until 11 p.m.
 "If we manage to do this with no money it means there is so much hope.  We are at Bologna to say there is an alternative," the Sardines' leader Mattia Santori said.  "This is a political turnaround."
 Santori has repeatedly stated he will not found a political party and the unaffiliated Sardines will not become a political party.
 The Sardines movement began in Piazza Maggiore, Bologna's main square, on 14 Nov., when a group of four friends including Santori organised a protest on Facebook against League leader Matteo Salvini's launch of the League's Emilia-Romagna campaign.  Since then, the movement has seen protests across Italy, establishing a pattern for protests, with handmade sardine signs and the partisan resistance anthem "Bella Ciao," seen again in their second Bologna protest on Sunday.
 The Emilia-Romagna election taking place Jan. 16 is seen as a particular battleground for the Sardines, Salvini and Italy's political centre and left – there are fears the historically left-wing region will swing right to elect Lucia Borgonzoni, currently campaigning alongside Salvini.  Particularly in rural areas, Salvini's populist message seems to appeal to voters, political sources report.
 The next Sardines protest is expected to take place Jan. 23 at Bibbiano, again in Emilia-Romagna, although it may not be in the town's main square - disputes over whether the Sardines or Salvini had the right to hold a demonstration there were decided in Salvini's favour due to electoral laws.
 im