UK envoy aims to bolster Italy links with local visits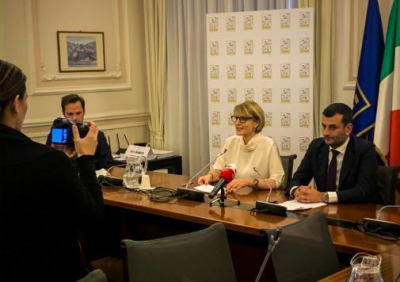 British Ambassador Jill Morris (centre) with Antonio Decaro at ANCI. Photo credit: Jill Morris/Twitter
 ROME – The British Embassy launched Wednesday "UK in… tour," a diplomacy initiative that will see Ambassador Jill Morris promote links between Britain and Italy through visits to a number of Italian cities over the course of the year.
 The initiative is being developed in partnership with the Associazione Nazionale Comuni Italiani (ANCI) and was presented at their Rome headquarters alongside the association's president, Antonio Decaro.
 At the event, Morris said the plan was developed in awareness of "the extraordinary richness in diversity that Italy offers through its different regions and cities" and of the strong links which unite the UK with many regions of Italy.
 She explained that although like any ambassador to Italy she had travelled around the country, this "more strategic" initiative was "unprecedented" in its programme of "'local missions' as part of a real strategy of 'territorial diplomacy' for Italy."
 The initiative aims to create new opportunities for collaboration, taking as a starting point "the key role which the cities have in the Italian socio-economic and cultural system," Morris said. 
 The Embassy was planning to use the programme to "reinforce commercial relationships and increase investments, to create new partnerships between universities and research centres, to develop new projects of collaboration in the cultural sphere."
 It will also provide opportunities for meetings and discussion between Italian and British experts on topics of shared interest, Morris explained, giving the example of climate change.
 Morris will visit a different Italian city each month, starting with Pavia on Jan. 21 and 22, where a report on women's access to finance in the UK and Italy will be presented at the university – part of a series of "Women in" events about women in work and gender equality, organised by the British Embassy.
 The February visit, to Genoa, will include a round table on urban regeneration with experts from both countries, and meetings with British investors and entrepreneurs present in Italy.
 Morris will also visit San Marino (which is not part of Italy and ANCI) followed by Cagliari, in Sardinia, in April.  Further visits are expected to Catanzaro, the Calabrian capoluogo, and Naples.
 Each visit, Morris said, will include meetings with mayors, the major local institutions, representatives of the business, university and research communities, local leaders in culture and representatives of the British community in the area.
 "A few days from our exit from the European Union, the United Kingdom continues to be committed to reinforcing the partnership with Italy in all respects," Morris said.
 She said she hoped Britain's relationship with the European Union would remain "as deep and special as possible, at all levels."
 im